Immune Design Corp. IMDZ reported loss of 52 cents per share in the third-quarter 2017, narrower than the Zacks Consensus Estimate of a loss of 63 cents and also a year-ago loss of 60 cents.
Shares of Immune Design's have lost 16.4% year to date compared with the industry's decline of 0.9%.

Quarter in Detail
Immune Design's total revenues for the third quarter were $0.5 million, down from $8.2 million in the year-ago quarter. The revenue was primarily attributed to the collaboration revenue received from partner Sanofi SNY for G103 (HSV2 therapeutic vaccine). Markedly, quarterly revenues missed the Zacks Consensus Estimate of $1 million.
Research and development (R&D) expenses were down 8.9% to $10.2 million in the quarter. The downturn was due to the decrease in in-licensing royalties and fees to other third parties that the company licenses various technologies from and a decline in contract manufacturing activities primarily owing to the timing of when services are performed.
General and administrative expenses also decreased 59.4% to $3.9 million.
Pipeline Update
Immune Design is developing multiple candidates using its two discovery platforms — ZVex and GLAAS — in the field of immuno-oncology. Notably, its key pipeline candidates include CMB305 and G100.
Based on productive discussions with the FDA, Immune Design announced plans to initiate a pivotal phase III study to support a Biologics License Application for CMB305 in patients with synovial sarcoma. The company plans to initiate the study in mid-2018 and enroll 248 patients aged 12 and older.
Additionally, the company presented interim analysis of CMB305 Combination Therapy, which showed that NY-ESO-1+ synovial sarcoma or mixoid round cell liposarcoma patients receiving the combination of CMB305 and Roche Holding AG's RHHBY checkpoint inhibitor, Tecentriq, experienced greater clinical benefit in the form of Disease Control Rate (including partial responses), median Progression Free Survival and Time to Next Treatment as well as immune response compared with those receiving Tecentriq alone.
Meanwhile, CMB305 is being evaluated in soft tissue sarcoma (STS) patients both as monotherapy and in combination with an anti-PD-L1 antibody. In fact, the company presented CMB305 monotherapy data pat ASCO from 25 STS patients with recurrent disease. It showed that observed median overall survival (mOS) has not yet been reached in these patients, with an overall survival rate at 12 and 18 months of 83% and 76%, respectively.
2017 Outlook
Immune Design continues to anticipate cash to fund operations unto 2020.
Immune Design Corp. Price, Consensus and EPS Surprise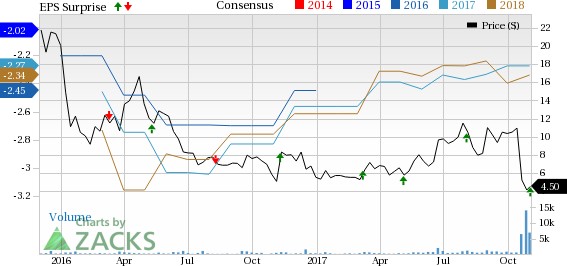 Immune Design Corp. Price, Consensus and EPS Surprise | Immune Design Corp. Quote
Zacks Rank & Key Pick
Immune Design carries a Zacks Rank #3 (Hold). Another better-ranked health care stocks in the same space is Ligand Pharmaceuticals Incorporated LGND sporting a Zacks Rank #1 (Strong Buy). You can see the complete list of today's Zacks #1 Rank stocks here.
Ligand's earnings per share estimates have moved up $3.68 to $3.70 for 2018 over the last 30 days. The company pulled off positive earnings surprises in two of the trailing four quarters, with an average beat of 6.19%. The share price of the company has increased 41.8% year to date.
Zacks' Best Private Investment Ideas
While we are happy to share many articles like this on the website, our best recommendations and most in-depth research are not available to the public.
Starting today, for the next month, you can follow all Zacks' private buys and sells in real time. Our experts cover all kinds of trades… from value to momentum . . . from stocks under $10 to ETF and option moves . . . from stocks that corporate insiders are buying up to companies that are about to report positive earnings surprises. You can even look inside exclusive portfolios that are normally closed to new investors.
Click here for Zacks' private trades >>
Want the latest recommendations from Zacks Investment Research? Today, you can download 7 Best Stocks for the Next 30 Days.
Click to get this free report
Roche Holding AG (RHHBY): Free Stock Analysis Report
Sanofi (SNY): Free Stock Analysis Report
Ligand Pharmaceuticals Incorporated (LGND): Free Stock Analysis Report
Immune Design Corp. (IMDZ): Free Stock Analysis Report
To read this article on Zacks.com click here.
Zacks Investment Research