After a six-month dry spell, two unicorns — Twilio and Line — finally decided to test the public market. The results have been mixed, with Twilio soaring to new heights and Line struggling to attract investors.
But don't expect the IPO parade to start just yet. Companies are now, more than ever, taking a lesson from past indiscretions and choosing to stay private longer. The class of 2015 is a prime example of a group of companies that prematurely went public and have suffered the consequences. The list includes Etsy, Fitbit, GoDaddy and Party City. Each of these names report earnings this week with hopes of turning around past misfortunes.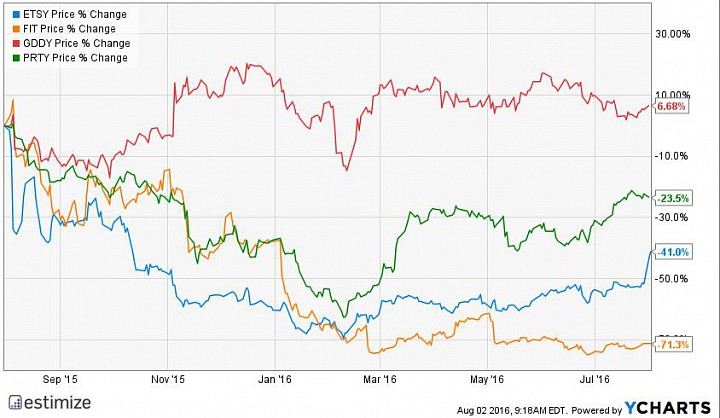 Etsy and Fitbit kick things off on Tuesday with their scheduled second quarter reports.
Etsy has made serious headway at reigniting growth. Last quarter, the Brooklyn-based online marketplace turned a profit for the first time since its public endeavor. Etsy is slowly establishing itself as the preeminent marketplace for handcrafted items. More than 90 percent of its traffic is organic, meaning Etsy doesn't pay for it and consumers are aware of its value.
In early trading today, Etsy shares spiked nearly 12 percent after Citi raised the company to a "buy" rating. The note put a $14 price target on the stock, citing steady margin expansion to support its claim.
Shares of the company are up 44 percent this year, but have still declined nearly 43 percent from a year earlier.
The Estimize community has raised its earnings target in light of Etsy's turnaround. Analysts are calling for a loss of 1 cent per share, 80 percent higher than the same period last year. This estimate has...
More