With the third quarter earnings season almost over, and 90% of companies
having reported, here is a quick look at where we stand and what has
emerged as the 4 main themes during earnings calls.
As of this moment, 71% of companies have beaten earnings expectations and just 44% have beaten top line estimates. The current consensus estimate is for a 2.2% decline in Q3 EPS across the S&P500.
The improvement in bottom line beats were to be expected: as we showed this summer, the reason why companies aggressively beat expectations is because of the even more aggressive sandbagging and guiding down ahead of earnings. As the following chart shows, since 2011 the average EPS cut prior to reporting has been 4%, while the average beat: 3.3%.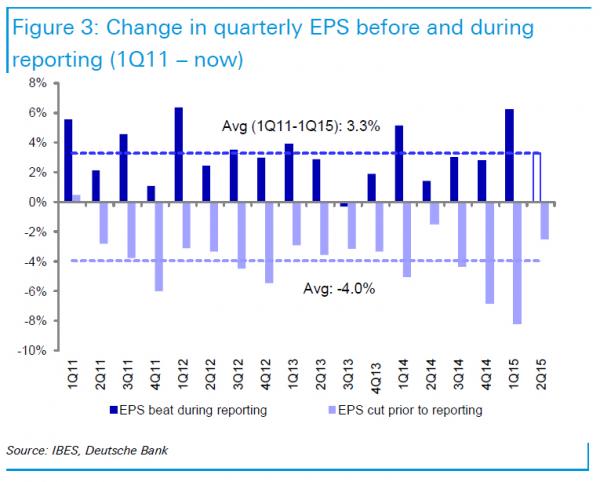 What is far more surprising is why so many companies missed the top line, and as Deutsche Bank says, "that's a weaker trend compared to what we've seen in the last two quarters." How does Q3 compare to prior quarters: in Q1 earnings and sales beats stood at 73% and 48% respectively, before improving slightly to 75% and 49% in Q2.
If we take a look at the aggregate moves, the obvious weakness is at the sales line where YoY aggregate sales are -5.0%.
And while Q3 will be the first earnings recession with two negative EPS quarters in a row, recall that the S&P500 already is in a revenue recession.
According to FactSet, the blended revenue decline for Q3 2015 is -3.7%. If this is the final revenue decline for the quarter, it will mark the first time the index has seen three consecutive quarters of year-over-year revenue declines since Q1 2009 through Q3 2009. It will also mark the largest year-over-year decline in revenue since Q3 2009 (-11.5%).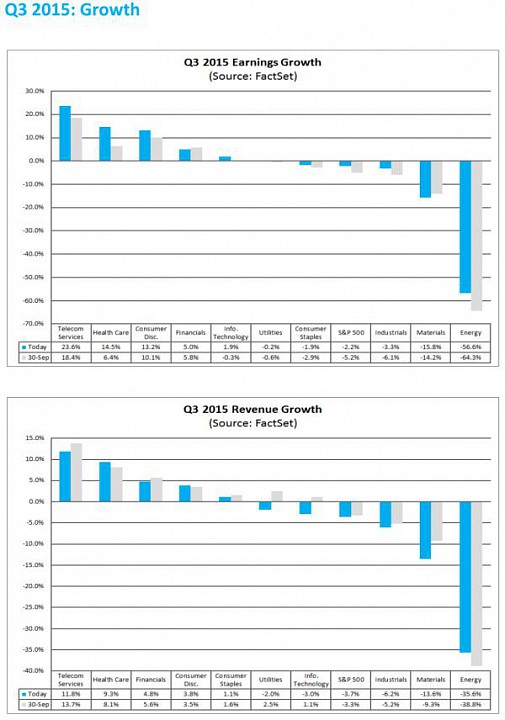 Furthermore, it is not just energy: while five sectors are reporting year-over-year growth in revenue, led by the Telecom Services and Health Care sectors, another five sectors are reporting a year-over-year decline in revenue, led by the Energy and Materials sectors.
Should Q4 revenue also post annual declines what then: a revenue depression?
Meanwhile, over in Europe and with 318 Stoxx 600 companies having now reported, 48% have beaten earnings expectations and 45% sales expectations. That's well down on both Q1 (57% and 72% respectively) and also Q2 (61% and 67% respectively) this year although it's worth noting that the data is a little less reliable for European companies given not all have earnings expectations are on Bloomberg.
* * *
That's the quantitative summary. For the qualitative one we go to Goldman Sachs, whose Beige Book summarizes the 4 key themes observed during the numerous earnings calls. Here is the punchline:
Theme 1: Divergence between consumer and industrial economies Many firms noted that the consumer economy continued to experience steady but unspectacular growth, while pockets of the industrial economy lagged and confronted recession-like conditions.
Theme 2: Early signs of inflation, particularly in the labor market Consumer-facing firms highlighted upward pressure on wages. Goods and services inflation remained limited, although some companies preemptively initiated price increases.
Theme 3: Buybacks remain a popular use of cash Use of cash was an important topic of management discussions. Many firms increased buyback authorizations and emphasized plans to return cash to shareholders, while others engaged in M&A.
Theme 4: Foreign exchange headwinds expected to continue A strong US dollar continued to weigh on earnings, particularly for companies with significant international exposure.
Some additional company-level details.
Theme 1: Divergence between consumer and industrial economies
The economy continued to diverge along two paths: (1) consumer-facing companies experienced steady, positive growth; (2) industrial companies operated in a challenging, low-growth economy. The consumer economy benefited from solid, though not spectacular, US economic growth and an improving labor market. In contrast, the industrial economy experienced some recession-like conditions as a result of low oil prices and weak global demand.
Consumer Economy
Equity Residential (EQR)
It's no secret that fundamentals remain very good. Demographic picture is incredibly favorable. The economy continues to improve, perhaps not at the rate many would like, but improve nonetheless, which is generating job growth…
Southern Co. (SO)
Industrial sales are a leading indicator; commercial sales are typically your lagging indicator. Well, it looks as if the leading indicator is slowing and the lagging indicator is what's really carrying the day.
Ford Motor Co. (F)
…we're expecting North America to have a very, very strong year with top-line growth and also a full year profit that will be higher than what we achieved last year…so a really strong performance from North America driving the overall company.
Apple Inc. (AAPL)
…our growth in one year was greater than the full year revenue of almost 90% of the companies in the Fortune 500.
Starbucks Corp. (SBUX)
Our fast-growing Americas segment continues to deliver industry-leading growth…and it opened 612 net new stores over the past 12 months.
Industrial Economy
Fastenal Co. (FAST)
The industrial environmental is in a recession. I don't care what anybody says because nobody knows that market better than we do with the number. We touch 250,000 active customers a month.
Illinois Tool Works (ITW)
…it's a tale of two economies: industrial and consumer. We continue to see solid organic growth in our consumer-facing businesses, such as Automotive, Food Equipment, and parts of Specialty and Construction, which represents about 60% of our total revenues… on the other hand, our industrial-facing businesses, like Welding, Test & Measurement/Electronics, declined in the high single digits organic.
E.I. du Pont and Co. (DD)
Things have clearly softened up. You just look at every industrial company that's reported this quarter. Having said that, I don't think things are in any draconian situation. I think it's just a low-growth to no-growth environment across some of the industrial spaces.
3M Co. (MMM)
Our U.S. Industrial business, which experienced softer end market conditions and a challenging year-on-year comparison, declined organically.
Caterpillar Inc. (CAT)
We anticipate between now and 2018 about $1.5B of annual cost reduction…we plan on reducing about 4,000 to 5,000 of our non-production workforce before the end of 2016.
American Electric Power (AEP)
Starting with GDP, you can see that the estimated 1.6% growth for the AEP service area is about 0.5% less than the estimated growth for the U.S. This is not surprising considering the impact of falling oil prices, especially in our Western footprint. While the nation benefits from lower fuel prices, the regional economies supporting the shale plays are  experiencing the direct impact of lost jobs.
Theme 2: Early signs of inflation, particularly in the labor market [don't shoot the messenger, it's Goldman's propaganda]
Companies continued to see early signs of inflation, particularly in the labor market. Some consumer-facing firms and particularly food and retailing companies responded to mandatory wage changes and provided additional benefits to employees, placing upward pressure on wages. A limited number of companies highlighted preemptive price increases while others raised prices in response to food inflation.
Wage Inflation
Chipotle Mexican Grill (CMG)
Labor costs were 22.2% of sales in the quarter, an increase of 100 basis points from last year, and year-to-date labor costs were up 40 basis points…Labor de-leveraged versus last year by 100 basis points as a result of wage inflation, with our hourly wages up nearly 5% over last year, along with the cost of adding enhanced benefits such as tuition reimbursement, paid sick leave, and increased paid vacation for our hourly restaurant employees as we discussed during our Q2 earnings call.
McDonald's Corp (MCD)
The incremental labor cost in the U.S. related primarily to our decision to invest in our people by raising wages and providing paid time off for employees at our company-operated restaurants, as well as providing educational assistance to all eligible U.S. restaurant employees effective July 1. These costs, along with wage increases mandated by several states during H1, impacted third quarter U.S. margins by about 400BPS.
Union Pacific Corp (UNP)
Labor inflation was about 4% for the third quarter, driven by agreement wage inflation as well as higher pension and other benefit expense. For the fourth quarter, we expect labor inflation to also be about 4%.
On the other hand, some firms are using technology to reduce wage costs in an attempt to maintain margins:
PepsiCo Inc. (PEP)
…we have installed packaging automation across approximately a third of our snacks plants worldwide, enabling us to reduce packaging labor costs in these facilities by at least 50%.
Goods and Services Inflation
Costco Wholesale (COST)
I think the pressure on the fresh food side is us. When you've got some inflation on some of the commodity items like eggs or nuts, you've got a – we're not changing the price of a 16-pack of muffins or a slice of pizza or a hot dog.
FedEx Corp. (FDX)
As we announced yesterday, we'll be raising rates at FedEx Express, Ground and Freight by an average of 4.9% on January, the 4th of 2016. … we're also updating certain fuel surcharge tables at FedEx Express and Ground effective November, the 2nd of 2015.
Illinois Tool Works. (ITW)
…the big driver of price here is new products that get launched that solve some pretty challenging problems for sophisticated customers, and then you see that – Food Equipment's a good example and Automotive and others. That's really the main driver of price here.
UnitedHealth Group (UNH)
Rather than wait for our own experience with our new members to fully develop, we increased rates and repositioned certain products market-by-market for 2016, and we expect improved performance next year.
Theme 3: Buybacks remain a popular use of cash
Companies continued to contemplate how best to use their cash, as many firms increased buyback authorizations and others engaged in M&A. Increased buyback authorizations were popular, despite some companies reiterating their commitment to other uses of cash. However, some companies paused buybacks as M&A activity also continued at a rapid pace.
Buybacks
United Technologies (UTX)
…we're going to keep driving the share repurchase agenda as long as we feel that there's a significant discount between the intrinsic value of UTC and the share price. We continue to see that today, of course, that's why our board recently authorized a new $12B share repurchase program…
Phillips 66 (PSX)
In addition, we announced an incremental $2 billion of share repurchase authorization. Today, we've completed $6 billion of the $9 billion in share repurchases authorized by our board…
Alphabet, Inc. (GOOGL)
As we announced today, our board has authorized us to commence a repurchase of our Class C capital stock of up to $5 billion. This decision is consistent with our overall capital management framework and complements a disciplined capital allocation program. Our primary uses of capital will, of course, remain CapEx and M&A across the breadth of our business.
E.I. du Pont and Co. (DD)
In the quarter, we entered into an accelerated share repurchase agreement to enable our $2B share repurchase commitment for 2015. In the quarter, we received and retired an initial delivery of about 29mm shares, which represents 80% of our $2B commitment.
Johnson & Johnson (JNJ)
Just this morning, we announced a $10 billion share repurchase program. We are very well positioned to drive continued growth in shareholder value with our exceptional financial strength, including our strong balance sheet and cash flow…as we have discussed before, we have a well-known and disciplined capital allocation strategy that starts with paying dividends, followed by value-creating M&A, and then we consider other ways to return value to shareholders, such as through a share repurchase program.
Visa Inc. (V)
Finally, we did not repurchase stock in the quarter due to the Visa Europe conversations that were underway… now that we've announced the Visa Europe transaction, we can resume our stock buyback. It is fully our intent to step up the pace of buybacks immediately to make up for buybacks not completed in Q4 FY 2015.
M&A
Aetna, Inc. (AET)
Our ability to repurchase shares was constrained by the proposed Humana acquisition, and we did not repurchase any shares during the quarter. We did, however, distribute $87 million through our quarterly shareholder dividend.
Walgreens Boot Alliance Inc (WBA)
…as we are paying cash for the acquisition, we have taken the decision to suspend our share repurchase program and intend to redeploy that cash to partly fund the transaction. This means that in 2016 we will not enjoy the earnings accretion of the buybacks we originally planned.
Gilead Sciences (GILD)
…I've seen these cycles go up and down over the years. And when there's a deal to be put together and it's timely, it can be done. And so I don't think it changes the overall outlook for M&A at all. I just think from my perspective, it's about the same as it was in the beginning of the year.
Theme 4: Foreign exchange headwinds expected to continue
The strong US dollar continues to be a drag on top- and bottom-line results, particularly for companies with significant international exposure. Managements generally expect the foreign exchange headwinds to persist into 2016.
Johnson & Johnson (JNJ)
…but to give you an idea of the potential impact on earnings per share, if currency exchange rates for all of 2015 were to remain where they were as of last week. Then our reported adjusted EPS would be negatively impacted by approximately $0.60 per share.
Monsanto Co. (MON)
We currently estimate ongoing EPS headwinds of $0.35 to $0.40 from currency, $0.50 to $0.85 from year-over-year Ag productivity pricing declines, and $0.20 to $0.30 from elevated cost of goods for corn and the planned Xtend launch.
Costco Wholesale (COST)
In terms of a year-over-year EPS comparison, a few items of note, and the biggest item of note, FX. In Q4 year over year, the foreign currencies where we operate were weaker versus the U.S. dollar, resulting in our reported foreign earnings this year in Q4 being lower by about $53 million after tax or $0.12 a share than these earnings would have been had FX exchange rates been flat year over year.
PepsiCo Inc. (PEP)
We now expect foreign exchange translation to negatively impact net revenue and core EPS growth by approximately 10 percentage points and 11 percentage points respectively...
Procter & Gamble (PG)
The headwind from foreign exchange has increased since the start of year. We now expect FX will have a five to six percentage point impact on all-in sales growth.
McDonald's Corp (MCD)
Currency translation is expected to be a headwind for the final quarter of 2015, as the U.S. dollar remains strong against nearly all of the world's other major currencies. Based on current exchange rates, we expect currency translation to negatively impact fourth quarter EPS by $0.08 to $0.10.
Visa Inc. (V)
The fiscal year 2015 impact of exchange rates was a 2.5 percentage point drag on net revenues, higher than we had anticipated at the start of the year. If we look at where the dollar is today and the basket of currencies we are exposed to, the FY 2016 impact looks to be 3 percentage points.
American Express (AXP)
Like other U.S. companies with a significant global footprint, our reported results are being significantly impacted by changes in foreign exchange rates. Over the past year, the dollar has strengthened significantly year over year against the currencies that we are most exposed to outside the U.S…. The dollar's strength will have an impact on our performance for the balance of the year and could impact 2016 as well.
3M Co. (MMM)
Foreign exchange impacts reduced sales by 7.4 percentage points, with notable year-onyear declines in the euro, yen, and Brazilian Real. These currencies devalued versus the U.S. dollar by 15%, 14%, and 37% respectively. In dollar terms, worldwide sales declined 5.2% versus the third quarter of 2014.
Simon Property Group (SPG)
And the other impact we've had on the negative side is that we've lost certain amount of percentage rent from the outlet business because of the fact that the strong dollar has also hurt tourism shopping.
Microsoft Corp. (MSFT)
Based on the current rates and the forecasted geographic mix of revenue, we expect 4 points of negative impact on total revenue in Q2.
Sherwin-Williams (SHW)
Unfavorable currency translation decreased earnings per share, $0.09 in the quarter.