After two consecutive months of declining factory orders, the March reading rebounded, increasing 1.6%, after a -7% and a -2.0% in February and January respectively. The 1.6% reading was slightly better than forecasts around 1.3%.
Factory Orders numbers have not given the markets anything to go on as data has been oscillating in a volatile manner from a month to month basis in the past couple of years.


(source: forexfactory)
Risk-sentiment remains flat throughout early US trading after the expected
ADP jobs
data, and this Factory Orders data.
The S&P500 for example is consolidating after a rally from 1840 that pushed the index to a record high of 1889.9.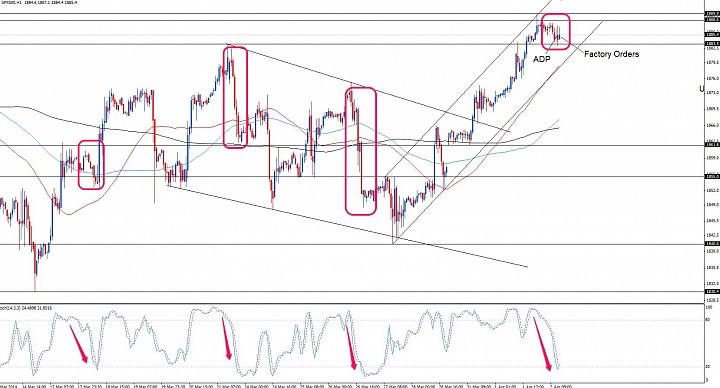 (S&P500 1H chart, 4/2)
Notice something changing: Last couple of times then stochastic fell from above 80 to below 20, there were strong bearish swings. When it was a strong bearish swing corresponding to the bearish stochastic cycle, the S&P500 extended another push higher.
This time, the market simply stalled and brought the stochastic below 20. This might be a clue that the S&P500 is poised to extend to even higher record highs, though with Friday's US NFP looming, traders might temper with the bullish outlook.