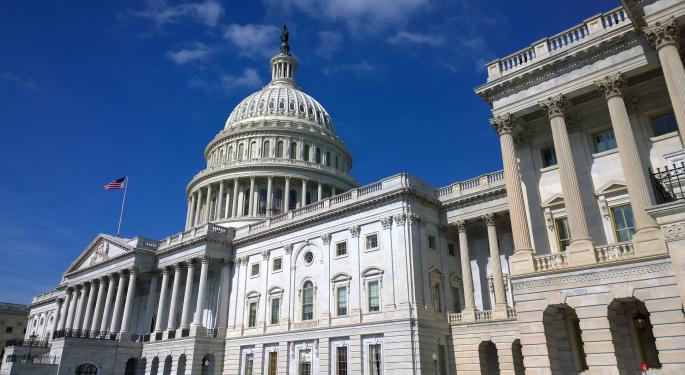 Health care reform once again seems dead in the water for now, leaving investors to turn their attention to another top Republican priority: tax reform.
The House Republican fiscal 2018 budget resolution unveiled Tuesday was the first step in the tax reform process. An important detail included in the resolution was its call for "deficit neutral" tax reform rather than "revenue neutral" tax reform.
A deficit neutral plan would cut taxes without adding to the federal budget deficit, whereas a revenue neutral plan would not reduce the amount of revenue the government takes in.
Calls for a deficit neutral plan suggest Republicans may be ok with a reduction in tax revenue if it is offset by spending cuts, Height Securities' Peter Cohn said in a new note on Wednesday. A deficit neutral plan provides Republicans with much more wiggle room, he wrote.
"Even if the entire package is designed to be 'paid for,' we still believe Congress could fit close to $3 trillion in tax cuts into a 'deficit neutral' reconciliation bill, halfway financed by honest-to-goodness tax revenue raisers and the remainder through smoke-and-mirrors baseline gimmicks and dynamic growth assumptions," Cohn wrote.
Related Link: GOP Health Care Reform: How It Got To Where It Is, What's Likely To Happen Next
One source of added budget flexibility may come from the failed effort to reform the health care system. Cohn called the budget resolution's calls for $1.125 trillion in revenue reduction due to health care reform a "fanciful assumption."
"If the budget preserves the $1.125 trillion revenue loss, that money could be repurposed towards tax reform – House Republicans clearly had no problem accepting the lost revenue when part of ACA repeal, as long as the total package still cut the 10-year deficit," Cohn explained.
Cohn said that the health care reform failure cranks up the pressure on Republicans when it comes to tax reform, and he sees plenty of motivations for Republicans to compromise to get a tax reform deal done.
Height estimates it will be possible for Republicans to provide nearly $3 trillion in gross tax cuts with as little as $1.5 billion in offsets.
U.S. stock investors are certainly anticipating an earnings tailwind from the promised tax cuts. The SPDR S&P 500 ETF Trust SPY 0.39% is up 15.1 percent since Election Day.
© 2017 Benzinga.com. Benzinga does not provide investment advice. All rights reserved.
Source