Elliott wave analysis on usoil (2016-07-23)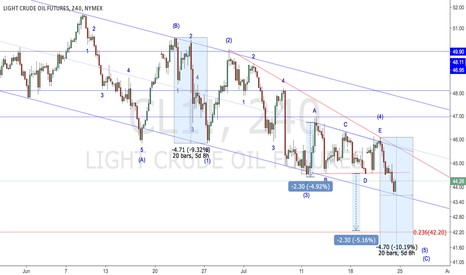 Correction structure of usoil 0.00%% is quite clear now. The wave C-4 is a triangle structure and was broken in Friday. The price is in wave C-5 currently. The target of C-5 is at around 42.2 based on the triangle broken and 41.4 if wave C-5 equals C-1. The correction might finish next week.

Trading suggestion:
The price rebounded from bottom of the channel. Watch for the resistance at 44.5~44.7 which has a short trading opportunity if price is rejected back with SL at 45.1
TP1: 42.2
TP2: 41.4

Or you can wait for the complete of correction to go long.

Good luck for everyone!