Here are 10 things you should know for Thursday, July 31:
1. -- U.S. stock futures were gloomy Thursday, as Argentina's bonds crashed into a default and another massive earnings day got underway.

European stocks were falling Thursday amid a plethora of earnings reports as eurozone consumer price figures suggested aggressive central bank tactics haven't shaken off the specter of deflation.
2. -- The economic calendar in the U.S. on Thursday is busy, as 419 companies report earnings and as markets brace for Friday's July jobs report.
3. -- U.S. stocks on Wednesday were mixed, as the Federal Reserve maintained its federal funds rate and cut monthly bond buying by $10 billion to $25 billion. Twitter (TWTR_) shares enjoyed a post-earnings rally of 21.4% to $46.85.

U.S. second-quarter advanced GDP figures came in a stronger than expected, increasing at an annual rate of 4% vs. the consensus estimate of 3%. The first quarter's GDP result was upwardly revised to a decrease of 2.1%, from the prior estimate of 2.9%, the Commerce Department reported. 
The Dow Jones Industrial Average (DIA) closed down 0.19% to 16,880.36. The S&P 500(SPY) rose 0.01% to 1,970.07. The Nasdaq (QQQ) rose 0.45% to 4,462.90. 
4. -- Argentina defaulted on bond payments for the second time in 13 years. The default was prompted by hedge funders' legal attempts to claw back money from the initial default more than a decade ago, as Argentina claims that it has tried to pay on the new bonds but has been stopped by U.S. courts.
No last-minute deal was struck to salvage Argentina's debt, as the South American nation blamed "vultures" for impeding the deal. Defaulting on loans is certainly not a good position for Argentina, but the country is still in better shape than when it defaulted in 2001.
Investors were prepared for this possibility, so markets are relatively steady in response. AsForbes put it, "Argentina, in short, is suffering, but is doing so largely alone." The next step may be currency devaluation.
5. -- The Federal Reserve meeting concluded Wednesday, with no big surprises announced. The Fed will continue to taper its monthly bond purchases to $25 billion. The most notable feature of the announcement was its emphasis on employment. The Fed said that the U.S. economy still needs jobs growth to sustain the economic recovery.
The big question is when the Fed will begin raising interest rates, given slow growth and unemployment. Fed chair Janet Yellen gave no real indication when that will be. 
6. -- The Commerce Department announced Wednesday that the U.S. economy had grown at a seasonally adjusted 4% annual rate in April, May and June. Output for the first quarter was revised upward to a shrinkage of 2.1%, from the prior estimate of 2.9%. That figure is still worrisome. 

7. -- A judge ordered Bank of America (BAC_) to pay a $1.27 billion fine for mortgage loan malfeasance, and former Countrywide executive Rebecca Mairone to pay $1 million personally. Mairone worked for a loan division, nicknamed "the Hustle," which made substandard loans and sold them to Fannie Mae (FNMA_) and Freddie Mac (FMCC_).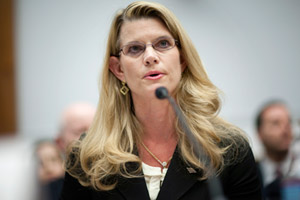 Bank of America bought Countrywide in 2008 amidst the financial crisis, and so it faces the fines. Mairone's lawyers claimed she was a low-level scapegoat. But the judge found her culpable.
Bank of America said that it would consider an appeal of the ruling.
The ruling may not be as bad as it sounds for Bank of America, which was down only 0.58% in premarket trading.  
Source: http://www.thestreet.com/