UNG, which tracks natural gas price performance, is building bullish momentum. 

UNG Daily Chart 8/23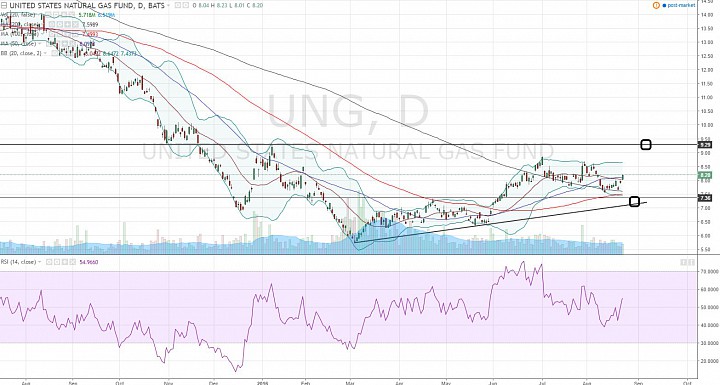 (click to enlarge)
Slingshot and momentum:
- The first critical sign that UNG is building a bullish outlook is that it crossed above the 200-, 100-, and 50-day simple moving averages (SMAs), and is now holding above these SMAs as support. This is call a "slingshot".
- The second key signal is the RSI holding above 40 after it crossed 70 in June. This reflects maintenance of the prevailing bullish momentum. 
Upside:
- As price anchor higher, we can anticipate the bull run to reach 9.30-9.50, a support/resistance pivot area where we might see some selling. 
- Within this bullish outlook, price still has some room towards 7.00-7.35 if it extends the consolidation mode started in July. 
- I think if price should not go below 7.00 if UNG is indeed in a bull run.