MACRO VIEW: WTI OIL SEVERE COMPRESSION: EXPLOSIVE MOVE AHEAD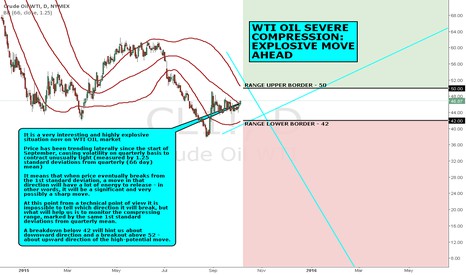 It is a very interesting and highly explosive situation now on WTI OIL market

Price has been trending laterally since the start of September, causing volatility on quarterly basis to contract unusually tight (measured by 1.25 standard deviations from quarterly (66 day) mean)

It means that when price eventually breaks from the 1st standard deviation, a move in that direction will have a lot of energy to release - in other words, it will be a significant and very possibly a sharp move.

At this point from a technical point of view it is impossible to tell which direction it will break, but what will help us is to monitor the compressing range, marked by the same 1st standard deviations from quarterly mean.

A breakdown below 42 will hint us about downward direction and a breakout above 52 - about upward direction of the high-potential move.