On Sunday evening, this happened:
BLOOMBERG COMMODITY INDEX SLIDES TO LOWEST LEVEL SINCE 1999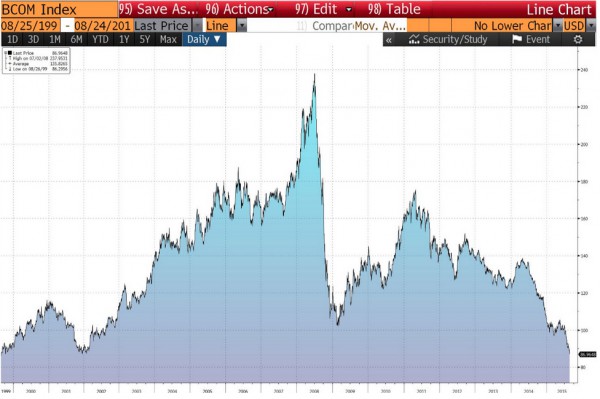 That's right, Bloomberg's commodity index cratered to its lowest level since 1999 or, said differently, the lowest level of the 21st century. That headline flashed just minutes after we highlighted Barclay's take on the "long, slow, and painful" end of the commodities supercycle which is weighing heavily on emerging markets in the wake of China's move to devalue the yuan. Here's how we described the setup on Sunday evening:  
Emerging markets will remain in focus this week as the world watches anxiously to see if China's move to devalue the yuan will ultimately transform an already precarious situation into an outright crisis.

 

Slowing demand from China has been the major concern for commodity exporters and indeed, wide open capital markets (thanks to ultra accommodative monetary policies across the globe) have served to keep struggling producers afloat, perpetuating a global deflationary supply glut.

 

Saudi Arabia's attempt to squeeze the US shale complex has only exacerbated the problem, as persistently low crude prices put further pressure on the commodities space as well as on the FX reserves of oil producing countries. When China devalued the yuan,it validated the suspicions of those who had assumed that the country's economy was in far worse shape than anyone at the NBS was willing to admit. Additionally, it marked a new escalation in the global currency wars and threatens to undermine the export competitiveness of many an emerging economy.
So that, in a nutshell, was where we stood going into the week and that rather abysmal backdrop (if you're an EM) has prompted quite a few analysts and commentators to draw a comparison between what's unfolding in EM FX markets and the Asian Financial Crisis of 1997/98. What's amusing is that some of the same desks who rushed to make the comparison a week ago now look to be talking back their predictions, perhaps realizing that circulating such things might be adding fuel to the fire. 
But it is far too late for that - the genie is out of the bottle and indeed it was a bloodbath across EM overnight with currencies under continued pressure and the MSCI EM index falling 4.2% as Chinese stocks collapsed after the PBoC failed to slash RRR over the weekend. Here's a survey of the carnage: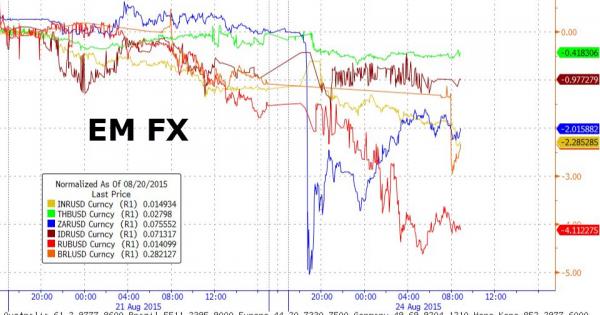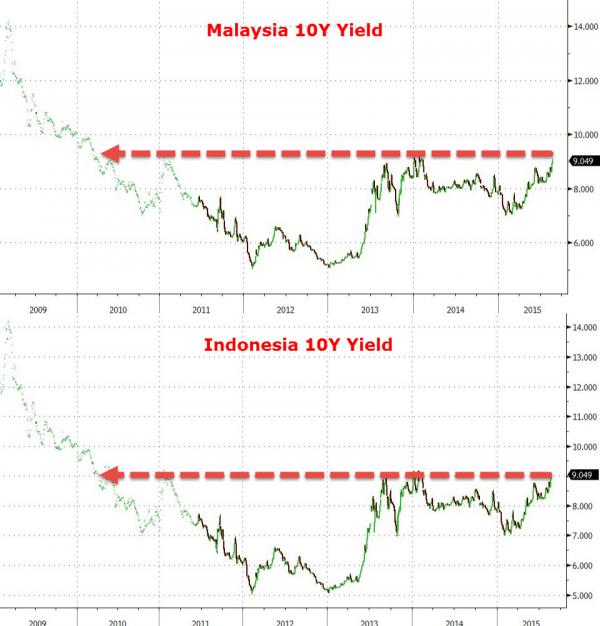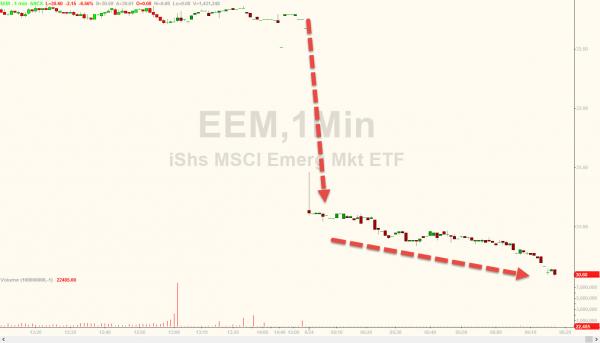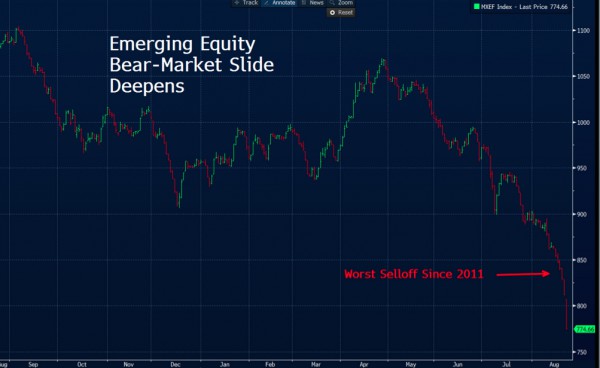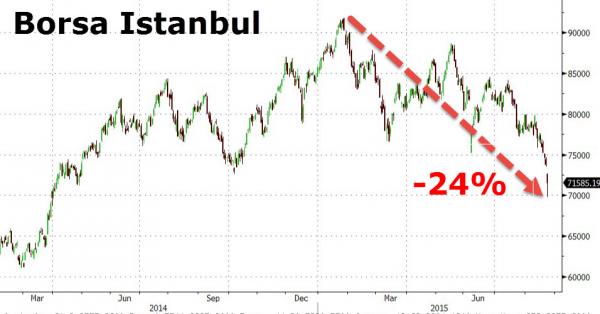 Here's a look at some of the overnight chatter courtesy of Bloomberg:
BRL -1.72% at 3.5612 vs USD, dragged into EMFX selloff seen today as commodities meltdown leads to massive stops;

 

Rupee weakens for third day; India has sizable forex reserves and won't hesitate to use them to curb volatility: RBI Governor Rajan; makes strong case for sticking to disinflation path, saying "rate cuts should not be seen as goodies that the RBI gives out stingily after much public pleading"

 

Malaysia's 10-year bonds fall; nation's foreign reserves fell to $94.5b as of Aug. 14 from $96.7b as of July 31; anti-graft agency says probe on 2.6b ringgit ($614m) fund is ongoing; 1MDB ready to assist Swiss authorities on probe related to it

 

Indonesia's 10-year bonds drop; Bank Indonesia expects benchmark rate unchanged at 7.50% for next year, while undervalued rupiah needs joint policy effort: Governor Martowardojo

 

Won falls; Bank of Korea FX official Park declines to comment on speculation of market intervention, but says authorities aware of importance of market stability

 

Singapore's dollar drops for second day; data today will show consumer prices dropped 0.2% from year earlier in July, smallest decline in seven months

 

USD/RUB is set to test YTD high at 71.8465 as Russia remains most vulnerable CEEMEA currency, hit both by global risk aversion and collapse in oil prices

 

Russian PM Medvedev said exporters will soon start selling hard currency for rubles, a form of indirect intervention

 

USD/TRY holding below last week's blow-off top as market has discounted negative political situation; fall in U.S. yields, further drop in oil prices both supportive factors

 

ILS may outperform other EM peers as BoI likely to leave rates on hold at 0.1% today, as forecast by 15 out of 17 analysts in Bloomberg survey

 

USD/ZAR to remain volatile after spiking ~8% to record high in illiquid overnight Asia trading, key drivers now are ZAR traders' P&L and risk-management concerns

 

EUR/PLN rises to fresh 6-mo. highs, PLN may remain under pressure despite strong domestic fundamentals as positions cleaned out on broad EM contagion
And a bit more from FT:
Fears over China's decelerating growth have sent investors fleeing from the currencies of emerging markets, from South Africa to Malaysia, whose prospects have become twinned with the fortunes of the world's second-largest economy.

 

Following an Asian session where markets went into meltdown after the Beijing government failed to meet widespread expectations that it would support its economy and stock market with either a major liquidity injection or an interest-rate cut, emerging market currencies are struggling to find any support.

 

Falling commodity prices are also affecting the finances of emerging markets, such as Indonesia and Russia, that produce raw materials for China's slowing industrial engine, as well as the still-lacklustre economies of Europe.

 

The Malaysian ringgit has fallen 1.4 per cent to M$4.23 per dollar, a level not seen since the 1998 Asian crisis, when Kuala Lumpur pegged its currency at M$3.80 to the dollar before removing this control in 2005.

 

The Indonesian rupiah has lost 0.65 per cent to Rp14,030 per dollar, also its weakest since the late 1990s crisis.

 

The Thai baht is down 0.3 per cent to Bt35.74 per dollar, its lowest since 2009.

 

The Turkish lira is hovering around fresh record lows, down 1.1 per cent to TL2.95 per dollar.

 

The South African rand is 2.3 per cent lower at R13.2 per dollar, having briefly dropped to an all-time low of R14 per dollar earlier in the day.

 

The Russian rouble is 1.1 per cent weaker against the dollar, at Rb70.10, having not crossed the threshold of Rb70 for the first time since February.