It has been another whiplash, rollercoaster, illiquid session which saw US equity futures tumble early overnight driven by a bout of USDJPY and Nikkei selling, only to regain all losses as European, and BIS, traders walked in, and promptly BTFD. In fact at last check, it was as if all the fireworks that took place just a few short hours ago and sent the ES as low as 2037, and below what has become the key support level, the 50-DMA...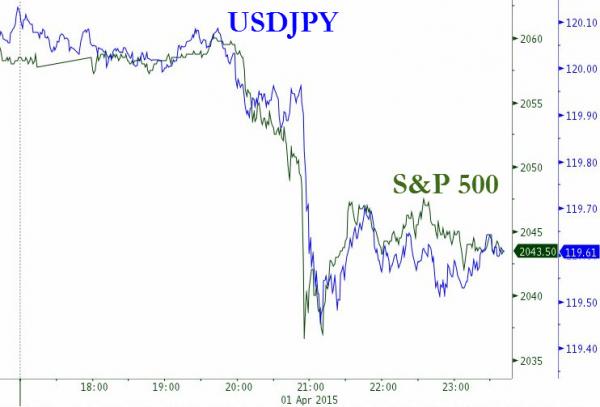 ... never happened.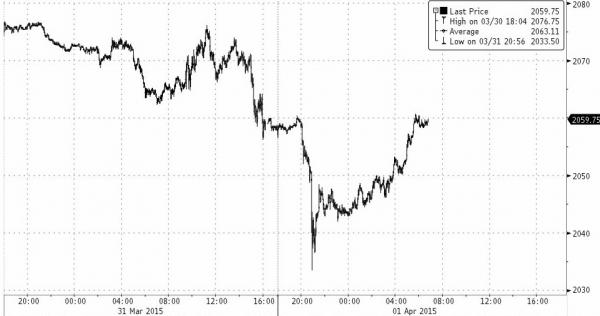 So here is what happened: overnight Asian stocks mostly fell with the exception of Chinese bourses, following a negative Wall Street close which saw the DJIA post its first quarterly decline for 2yrs. Nikkei 225 led the rout after breaking below 19,000, following a disappointing BoJ Tankan survey, with saw capex expectation at the lowest since Q1' 2013. This prompted a sharp technical-led slump across US index futures which saw both the S&P 500 (-0.8%) and DJIA (-0.8%) E-mini futures break below their 50 DMAs. Hang Seng and Shanghai Comp rose, the latter posting yet another fresh 7yr high underpinned by higher than expected Chinese Official/HSBC Mfg. PMIs.
On the first trading day of the month and quarter European indices trade higher, supported by a series of better than expected PMI releases, window dressing heading into the new quarter and a recovery after yesterday's close lower. Core Europe has now caught up with the UK after early outperformance in the FTSE 100 as the index was supported by positive single stock news and core Europe underperformed the UK due to lingering concerns surrounding Greece. Notably, Eurostoxx trade at the highest level since 2008. The markets will now be looking for any details that emerge from a working group call between the Eurogroup and Greece after an official said yesterday that he hopes for deal at the 1500 call although creditors have said there will be no deal at hand and there will be no negotiating.
Alongside any indication of progressive in Greek talks, markets now turn their attention to the release of several pieces of tier 1 US data with ADP, Manufacturing PMI, ISM Manufacturing and DoEs all due. Focus will be on the employment sub-component of these data points ahead of US NonFarm Payrolls due on Easter Friday. Attention will also be paid to any details on Iranian nuclear talks after a German Delegation source said this morning that Iranian talks have led to no deal as of yet, however if all parties show willingness to compromise, an agreement could be reached soon. Furthermore, heading into the North American crossover, Iran's Deputy foreign minister Araghchi says he hopes a deal will be reached by tonight.
In-line with gains in stocks USD/JPY has seen a bid, reversing overnight JPY gains which was attributed to safe-haven flows following a sharp-sell off across both Asian stocks and US index futures. Recent upside in the pair has led to a break back above 120.00 and this means that current prices sit close to large expiries due to roll off at tomorrow's 10am NY cut including ~2.6bln at the handle. Despite this morning's USD strength there has been little movement in commodities markets this morning, another factor which has provide the FTSE with room for upside.
WTI crude futures fell overnight after last week's API crude oil inventories showed a larger than previous build in oil stockpiles (+5.2mln vs. Prev. +4.8mln). Recent USD strength has also led to fresh lows heading into the US crossover and ahead of today's DOE inventories which are expected to show a build of 4.2mln. In the metals markets, Iron ore printed a fresh 10- year lows as problems of overcapacity continue to plague the market, and although gold and silver trade lower, they trade above yesterday's lowest levels.
In summary: European equities advance, reversing earlier losses. Banking, construction, ealth stocks lead gains. JPMorgan says mkts too pessimistic on Greece. Danish, French stocks outperform in Europe. Gold rises, while U.S. equity index futures, oil decline. Talks on Iranian nuclear deal continue. Mortgage applications, manufacturing PMI, construction spending, ISM manufacturing, vehicle sales data due later.
Market Wrap
S&P 500 futures down 0.0% to 2050.9
Stoxx 600 up 0.4% to 398.7
US 10Yr yield up 1bps to 1.92%
German 10Yr yield up 1bps to 0.19%
MSCI Asia Pacific down 0.3% to 145.8
Gold spot up 0.2% to $1185.8/oz
Eurostoxx 50 +0.4%, FTSE 100 +0.5%, CAC 40 +0.6%, DAX +0.4%, IBEX +0.5%, FTSEMIB +0.5%, SMI +0.4%
Asian stocks fall with Shanghai Shenzhen CSI 300 outperforming and the Nikkei underperforming.
MSCI Asia Pacific down 0.3% to 145.8
Nikkei 225 down 0.9%, Hang Seng up 0.7%, Kospi down 0.6%, Shanghai Composite up 1.7%, ASX down 0.5%, Sensex up 0.5%
Simon Withdraws $16.8b Offer for Macerich After Rejection
Sony Sells Half Stake in Olympus to JPMorgan Securities
Alibaba Logistics Ally ZTO Express Sees Possible IPO in 2017
Chinese Group in Talks on Debt Funding for Philips Deal
Euro up 0.12% to $1.0744
Dollar Index up 0.01% to 98.37
Italian 10Yr yield up 2bps to 1.27%
Spanish 10Yr yield down 2bps to 1.19%
French 10Yr yield up 1bps to 0.49%
S&P GSCI Index down 0.1% to 396.4
Brent Futures down 0.2% to $55/bbl, WTI Futures down 0.7% to $47.3/bbl
LME 3m Copper up 0.2% to $6051/MT
LME 3m Nickel up 0.8% to $12500/MT
Wheat futures up 1% to 516.8 USd/bu
Bulletin Headline Summary
Better than expected Eurozone PMIs and window-dressing support a bid in European equities and support USD/JPY which breaks back above 120.00
Markets will now be looking for any details that emerge from a working group call between the Eurogroup and Greece at 1500 local time although creditors said there will be no deal at hand and there will be no negotiating
Treasury yields higher overnight as U.K. manufacturing grew at its fastest pace since last summer and negotiations with Iran over its nuclear program reach "consensus on major points."
U.K. manufacturing grew at the fastest in eight months in March, reinforcing the health of the recovery as politicians clash over economic management before the general election
Iran and world powers pressed ahead with talks to draft the outline of an agreement to end the 12-year standoff over the country's nuclear program, with diplomats saying more work needs to be done before any announcement
A Chinese manufacturing gauge rebounded in March, suggesting stimulus efforts have started to bolster factories in the world's second-largest economy
Signs of inexperienced investors' growing influence on China's $6.5t stock market have already shown up in the outperformance of China's equivalent of penny stocks and a jump in share-price volatility to the highest level in five years.
European Central Bank policy makers will consider extending their lifeline to Greek banks on Wednesday after the country's lenders lost deposits for a sixth month
Yemen's Houthis seized an army base overlooking a key shipping lane in the Red Sea, while Saudi Arabia said its bombing campaign has contained the rebel advance toward the port of Aden
Sovereign 10Y yields mixed, Greece 10Y mostly steady at 11.34%. Asian stocks mixed, with Nikkei lower. European stocks rise, U.S. equity-index futures increase. Crude, gold and copper fall
US Event Calendar
7:00am: MBA Mortgage Applications, March 27 (prior 9.5%)
8:15am: ADP Employment Change, March, est. 225k (prior 212k)
9:45am: Markit U.S. Manufacturing PMI, March final, est. 55.3 (prior 55.3)
10:00am: Construction Spending m/m, Feb., est. -0.1% (prior -1.1%)
10:00am: ISM Manufacturing, March, est. 52.5 (prior 52.9)
ISM Prices Paid, March., est. 38 (prior 35)
Wards Total Vehicle Sales, March, est. 16.9m (prior 16.16m)
Wards Domestic Vehicle Sales, March, est. 13.5m (prior 12.87m)
DB's Jim Reid starts us off on the new quarter
We kick off in China this morning where the early morning PMI indicators are out. Sentiment is a touch better after the official March PMI improved 0.2pts to 50.1 (vs. 49.7 expected). At the same time the final March HSBC manufacturing reading was revised up to 49.6, from 49.2 previously in the flash print. Despite the better than expected numbers, our China economist Zhiwei Zhang doesn't see this data as reflecting signs of economic recovery, reiterating that growth still faces headwinds from the property slowdown and the fiscal slide. Over in Japan meanwhile, the Tankan survey was largely disappointing with the Q1 large manufacturing index reading unchanged at 12 (vs. 14 expected) and the small manufacturing index reading of 1 down versus the previous reading and expectations of 4.
In terms of market reaction, bourses in China have bounced on the numbers with the Shanghai Comp  (+1.39%) and CSI 300 (+1.57%) both higher. It's a different story in Japan however where the Nikkei (-0.71%) and Topix (-0.77%) have fallen. Elsewhere bourses are mixed. The Hang Seng (+0.66%) is higher while the Kospi (-0.64%) and ASX (-0.54%) are both trading softer. The latter suffering from weakness in commodity producers in particular after another fall for iron ore to a fresh ten year low. In terms of markets yesterday, US equities gave up a decent bulk of Monday's gain to close lower and end the quarter on a more downbeat tone. The S&P 500 (-0.88%) and Dow (-1.11%) both closed more or less at their lows for the session following some mixed macro data and a decline in oil markets. Yesterday's moves just about kept the S&P 500 in positive territory (+0.44%) YTD, however the move in the Dow means the index is now in negative territory (-0.26%) in 2015 so far. The Dollar extended its strong start to the week meanwhile, with the broader DXY +0.39%. The generally weaker sentiment supported a bid for US Treasuries, with the benchmark 10y yield closing 2.4bps lower at 1.923%. As mentioned oil played its part yesterday as energy stocks (-0.92%) declined following falls in WTI (-2.22%) and Brent (-2.10%) for their third consecutive day of losses after the mini-rally post the Middle East conflict headlines last week. In reality however, losses were fairly broad based across sectors, with all components closing in the red.
The data flow in the US was largely mixed yesterday. Following the steep decline in the February Chicago PMI reading, there was only a modest bounce back last month with the 46.3 print still the second lowest since 2009 (behind February) and also well below expectations of 51.7. The reading may well put some pressure on today's ISM manufacturing reading. On a brighter note, the March consumer confidence print rose 2.5pts to 101.3 (vs. 96.4 expected) – the reading only a touch behind the 8-year highs seen in January. Elsewhere, the ISM Milwaukee (53.25 vs. 51.50 expected) was ahead of consensus while the S&P/Case Shiller house price index disappointed modestly (4.56% yoy vs. 4.60% expected).
Elsewhere, the Richmond Fed's Lacker reiterated his hawkish view on Fed tightening, highlighting a strong case for a June liftoff unless data between now and then disappoints versus expectations. Like his colleagues, Lacker also noted that the pace of any subsequent move post-liftoff will be determined by data. Comments from the Kansas City Fed's George (non-voter) somewhat mirrored Lacker's. The Fed official said that 'it's time' to talk about a rate hike and that she is 'not bothered' by temporarily low inflation given that she expects prices to rise back towards the Fed's target level of 2% over time.
Back to markets, it was a similar story closer to home yesterday, as equity markets declined and bond yields tightened although data was generally supportive. The Stoxx 600 (-0.64%), DAX (-0.99%) and CAC (-0.98%) all finished lower while 10y Bunds closed 2.5bps tighter and at a fresh record low of 0.180%. Peripheral bonds extended their strong start to the week, with 10y yields in Spain (-5.9bps), Italy (-7.0bps) and Portugal (-7.7bps) all lower. With one eye on Greece meanwhile, the Euro softened again and closed 0.94% weaker versus the Dollar. In terms of the data, yesterday's Euro-area CPI estimate, as expected rose to -0.1% yoy (from -0.3%). The core was a touch softer however with the advanced reading revised down one-tenth of a percent to +0.6% yoy. The unemployment rate for the Euro-area declined to 11.3% in February (from 11.4%). In Germany data was supportive. Retail sales (+3.6% yoy vs. +3.4% expected) and unemployment (6.4% vs. 6.5% expected) extended the recent strong run of macro indicators. French consumer spending was positive too, with the 3.0% yoy print well ahead of the 2.6% expected. Finally in the UK the final Q4 GDP print was revised up to +0.6% qoq from +0.5% last month. This helped push the annualized rate up to +3.0% yoy (from +2.7%).
There was little to report in terms of progress in Greece yesterday. The Greek press (Ekathimerini) is reporting that talks between the government and Greece's creditors may continue next week while technical teams will stay in Athens to continue to collect data. In the mean time, German Chancellor Merkel and French PM Hollande yesterday re-emphasized the time pressure for the Greek government at a joint cabinet meeting. A separate Bloomberg article has suggested that Euro-area finance officials will hold a call today to discuss the current situation and the conditions to which an aid release may be granted. According to the article, the call will take place at 3pm CET.
Meanwhile, the nuclear accord talks in Iran continue with the deadline extended to today. There have been some signs of a potential positive outcome however. Bloomberg has reported Russian diplomat Lavroz as saying that 'ministers have reached basic agreement on all the main aspects' while Iranian diplomat Zarif has said that 'the solution to most of the issues has been clarified' and 'we can finalize the work and start the process of drafting'. On the topic, the BBC has reported that officials have said that there were plans to issue a 'framework understanding' which would be enough for all parties to continue negotiations in a new phase aimed at achieving a successful conclusion by June 30th. It's likely that the finer details take longer to conclude, but an initial draft framework agreement should provide some short term relief.
We've got a busy calendar to look forward to today with the final March manufacturing readings due for the Euro-area as well as regionally in Germany and France. We'll also get second readings for the UK and peripheral nations. In the US this afternoon, focus will also be on the manufacturing PMI while we also see the ISM manufacturing and prices paid readings for March. Construction spending is released too while the March reading for the ADP employment change will be of much focus ahead of Friday's payrolls. Fedspeak wise we've got Williams and Lockhart due to speak.