In a closely watched special election in Georgia, novice Democrat Jon Ossoff appeared to fall short of the majority he needed to win outright and is expected to advance to a runoff in Georgia's special election after failing to clinch a majority of the vote on Tuesday in order to avoid another election in late June.
Ossoff led the crowded 18-candidate field in Tuesday's "jungle primary" to fill the seat vacated by Health and Human Services Secretary Tom Price. The Democrat ended up as the top vote getter in the crowded field but with 100% of precincts reporting early Wednesday morning, Ossoff had 48.1% just shy of the 50 percent he needed to become the first Democrat to represent Atlanta's affluent northern suburbs since the 1970s. Ossoff will now compete in a runoff with the second-place finisher, Republican Karen Handel, on June 20.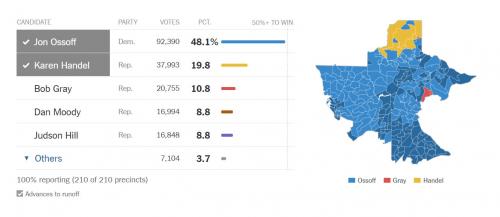 "This is already a victory for the ages. We have defied the odds, we have shattered expectations," Ossoff told a cheering crowd of supporters.
"No matter what the outcome is tonight, whether we take it all or we fight on, we have defied the odds, we have shattered expectations," he said adding that "we are changing the world and your voices are going to ring out across this state and across this country. We will be ready to fight on and win in June if it is necessary."
With few other events on the political calendar, the race was seen as a bellwether of the national mood during Trump's turbulent first few months in office. Republicans have controlled the seat for decades, but Trump only won it by 1 percentage point in last November's presidential election.
Republican winner Karen Handel, a former Georgia secretary of State, was considered an early favorite for the GOP side of the race and led most polls. She had the highest name recognition, after two unsuccessful statewide bids and a high-profile resignation from Susan G. Komen for the Cure over the charity's Planned Parenthood funding. Handel also endured the most intraparty attacks. The conservative Club for Growth, which endorsed GOP opponent Bob Gray, called her a "career politician." She also faced attacks from another fellow republican Dan Moody.
As the Hill reports, Democratic hopes that Ossoff could win outright were buoyed early Tuesday evening by promising early vote returns, but Ossoff's vote share continued to drop as more precincts reported their votes. Reports of technical glitches stemming from Fulton County delayed the results for hours as Ossoff hovered right at that 50 percent threshold.  And while Ossoff ran far better than any other Democrat had in this district before, narrowly missing the runoff will be a disappointment for the party because it allows Republicans to reload and unite behind one candidate. But Democrats are still heartened by the gains they've made in the red district.
For decades, Georgia's 6th Congressional District had been considered a safe Republican seat. But Democrats have been licking their chops at the prospect of flipping the suburban Atlanta district ever since Trump won the district by less than 2 percentage points in November.
Democrats, searching for answers at a time when they are shut out of power in Washington, found a unifying figure in Ossoff, a 30-year-old documentary filmmaker who campaigned on a promise to "Make Trump Furious." He raised more than $8 million in the first three months of the year, much of it from out of state, and drew volunteers from across the country. Ossoff benefited from a fractured Republican field of 11 candidates, some of whom emphasized their loyalty to Trump while others kept their distance. Handel, a former Georgia secretary of state, did not mention Trump during a 10-minute speech on Tuesday night, according to local media.
National Republican groups spent millions of dollars painting Ossoff as a neophyte who does not live in the area he aims to represent.
As the race grew more heated and polls numbers showed Ossoff not far from 50 percent, Republicans grew increasingly nervous about their chances and started to pour millions of dollars into ad campaigns that attacked Ossoff as the "handpicked candidate" of House Democratic leadership in Washington and questioned his national security credentials. The pressure only increased after Democrats posted a strong showing last week in a special election in another House that had been seen as reliably red, Kansas's 4th District. 
Even Trump weighed in last-minute, recording a robocall to rebuke Ossoff and tweeting that the Georgia Democrat is a "super liberal" and claiming he supports illegal immigration and tax increases. Ossoff fired back in a statement that Trump was "misinformed." Soon after CNN called the race a runoff around midnight, Trump tweeted at Ossoff's expense.
"Despite major outside money, FAKE media support and eleven Republican candidates, BIG 'R' win with runoff in Georgia. Glad to be of help!" he said.
Ossoff grew up in the district and says he will move back if he wins.
Nonetheless, an Ossoff win would not tip the balance of power in Washington, where Republicans control the White House and both chambers of Congress. But it could weaken the already shaky hold Trump has on his fellow Republicans by encouraging lawmakers to distance themselves from him.