When scanning the marekts its always good to take a look at the strongest performer of the day (today its the EUR) against the weakest performer (today it seems to be the AUD and NZD).
<!== INSTRUMENT %% %1440% ==!>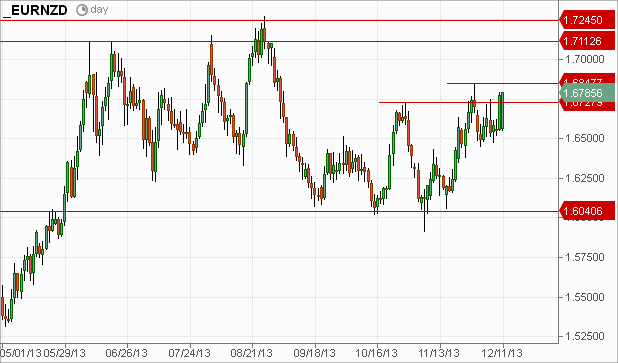 While the EUR/AUD pair is also interesting, let's analyze the EUR/NZD here.

Mainly, we are seeing what seems to be the initial burst in a continuation pattern after a 2-week period in which we had small candles which look like consolidation.

However, for this to be a continuation, we need the pair the clear its highs from the end of November at 1.6850.
 If its able to, we can see that there's pretty much "open space" until the psychologically important whole number of 1.70, and then beyond to key pivots at 1.7110 and 1.7245.

I'm not even that sure what has gotten into the EUR from a macro perspective, but will just follow the momentum at this point, and see if the EUR can keep it up and the bullish side seems like the higher probability scenario.