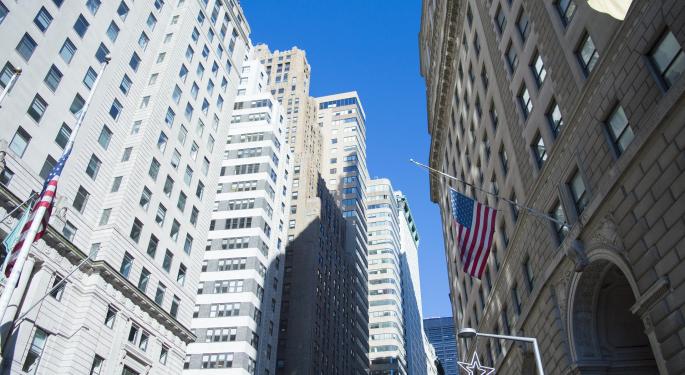 Below is a tool used by the Benzinga News Desk each trading day -- it's a look at everything happening in the market, in five minutes. Apply for daily AM access by clicking here or email minutes@benzinga.com.
Macro Focus
The market continued its recent pattern of low volatility on Wednesday as the Dow and S&P finished with very minor losses while the Nasdaq jumped in the wake of a better-than-expected earnings report from Apple AAPL. U.S. stock futures pushed modestly higher on Thursday, supported by earnings optimism ahead of more results and by Federal Reserve comments perceived as dovish.
The major news on the day was that the Federal Reserve left interest rates unchanged and said in a statement after the July FOMC meeting that economic headwinds have diminished. This may signal another increase in rates is on the horizon.
BZ News Desk
Facebook FB Reports Q2 EPS $0.97 vs. Est. $0.82, Rev. $6.44B vs. Est. $6.02B
Ford F Reports Q2 Adj. EPS $0.52 vs $0.60 Est., Sales $39.5B vs $36.3B Est.
Marvell MRVL Reports Q1 Adj. EPS $0.01 vs $0.07 Est., Sales $541M vs $574M Est.
Groupon GRPN Reports Q2 Adj. EPS $(0.01) vs $(0.02) Est., Sales $756M vs $711M Est.
GoPro GPRO Reports Q2 Adj. EPS $(0.52) vs $(0.58) Est., Sales $220.755M vs $194M Est.
Hershey HSY Reports Q2 Adj. EPS $0.85 vs $0.78 Est., Sales $1.638B vs $1.61B Est.
Sell-Side Themes
Infinera INFN was downgraded by at least four Street analysts after the company provided a "difficult near-term outlook."
Sell-Side's Most Noteworthy Calls
JPMorgan downgraded Level 3 LVLT to Neutral.
MKM downgraded Activision ATVI to Neutral.
Hilliard Lyon upgraded Apple to Buy.
JPMorgan upgraded Match Group MTCH to Overweight.
Pacific Crest initiated coverage on Cray CRAY at Overweight.
Roth Capital started Ormat Technologies ORA at Buy.
Deal Talk
Oracle ORCL will acquire NetSuite N for $9.3 billion. This was first reported by Benzinga Pro on July 12.
SABMiller SBMRY is said to have suspended work on integrating the brewer's operations with that of Anheuser-Busch BUD, according to a memo seen by Bloomberg. In the memo, SABMiller CEO Alan Clark told employees "there should be no contact with AB InBev with immediate effect," while a new offer is reviewed.
AstraZeneca AZN CEO declined comment on possibility the company might become a takeover target again.
SoftBank Group CEO said it has received no offer from Yahoo YHOO over Yahoo Japan shares.
In The News
President Obama defended his legacy and laid out the ways Hillary Clinton would continue it at the Democratic National Convention on Wednesday. He unleashed his most ferocious attack on Donald Trump, saying that "homegrown demagogues" will always fail in the end.
The Powerball jackpot swelled to $478 million after Wednesday night's drawing yielded no jackpot winners. That's the fifth largest Powerball prize of all time, and it's number eight on the list of biggest lottery prizes in U.S. history.
Blogosphere
A 10-year old company with few physical assets and a small amount of employees is now worth more than an empire built by Warren Buffett over the course of 50 years. Anything can happen.
Trending
FB F ARIA CLF GPRO N CELG NXPI ORCL MITK VUZI DOW MA NUGT
Ever heard of #saveniallhoran? Neither have we.
© 2016 Benzinga.com. Benzinga does not provide investment advice. All rights reserved.
Source