I have been pounding the table for dividend growth investors to look at the mega cap, blue chip, dividend champion stocks that have been beaten up over the last 12 months or even less. The stocks are dividend champs and keep paying shareholders a continuous stream of reliable income that has not dropped one cent during the recent market sell-off.
I have no crystal ball as to what will happen next but I do like to buy quality at fair prices that pay me to own the shares. That being said, the following "name brands" could be considered as "buys" by me, and for me (and maybe for you as well?).
Keeping it simple, I do not need to guess at what stocks will become blue chips. These already are, and have a dividend aristocrat status that only 54 stocks can claim; paying and raising the dividends for more than 25 consecutive years.
The recent correction has reduced the share price, or cost of entry, increased yields by having a lower share price, and even their PE ratios have dipped to quite reasonable levels.
Let's look at the chart of my favorite stock right now: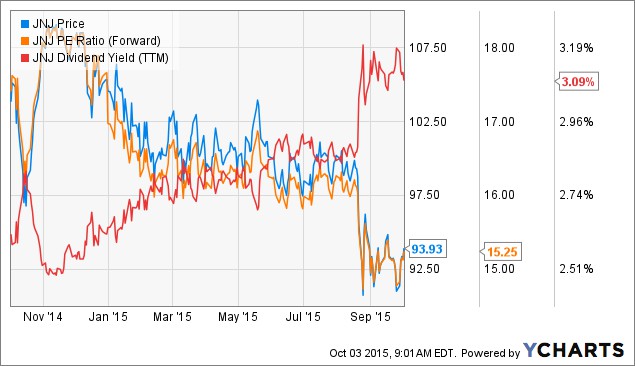 Back in January, the shares hit about $108/share and are now at about $94/share. A drop of roughly 15%. It is the same great company and the same healthcare sector mega cap. JNJ has paid and increased dividends for over 30 consecutive years and the forward PE has dropped from well above 19, down to about 15, which is below the S&P500 average now!
Now look at this chart: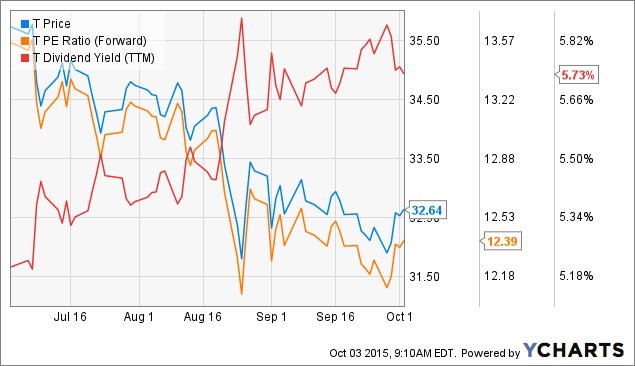 T is even more compelling in some respects, for some folks. The stock was about $37/share just 3 months ago and is now at $32.64/share. A drop of roughly 12% in 3 months! The PE ratio has dropped from around 16 to roughly 12 right now, and the dividend yield has jumped from around 5.10% to nearly 6%! Yes, another dividend aristocrat with a 30 year record, that now also owns DirecTV for even greater growth in the future.
The bang for your buck pays off in several ways:
Room to rebound back to the recent highs at least (about 13% average capital appreciation).
About 19% more yield per share for higher income beginning immediately!
No fancy technical charts, no crystal ball, and we all know that anything can happen and the price can drop further, but the yield will go higher if that occurs. The historical trajectory of these stocks has ALWAYS been UP.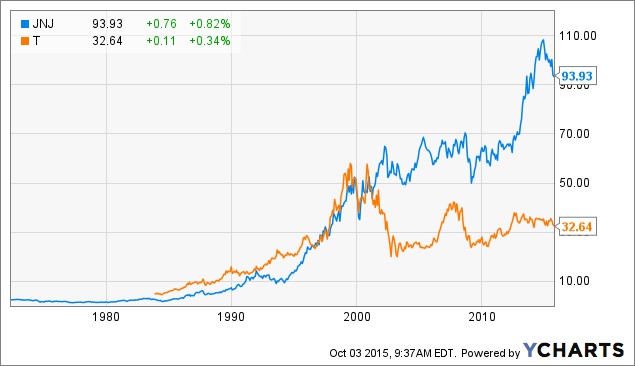 I cannot think of many more simple opportunities to increase my income immediately, own shares at very fair prices and valuations, and I will let the future take care of itself as it always has.
As a side note, if you buy JNJ at $94 take a look at the January 2016 (less than 3 months) 100 strike price call options to sell against your shares. You will get the next dividend of $.75/share plus a 12% (annualized) premium for selling the calls.
If the share price hits $100 your shares will be taken at an annualized gain of about 7%.
No guarantees and you can lose money in the short term, but I like the risk versus the reward for my own tolerance levels!
There are plenty more where this came from, so please follow me, read my articles, and trust the process!
Disclaimer: The opinions of the author are not recommendations to buy or sell any security. Know your own risk tolerance and goals, and do your own research. The decisions to take action are yours completely.
More