According to a report by Grand View Research, the value of the global vaccine market stood at approximately $32.5 billion in 2015 and is estimated to grow at a healthy compound annual growth rate (CAGR) of 10.3% over the next eight years. This astonishing level of growth is being fueled by greater access to healthcare across the globe, combined with a spike in innovation that's helping to address a number of unmet medical needs.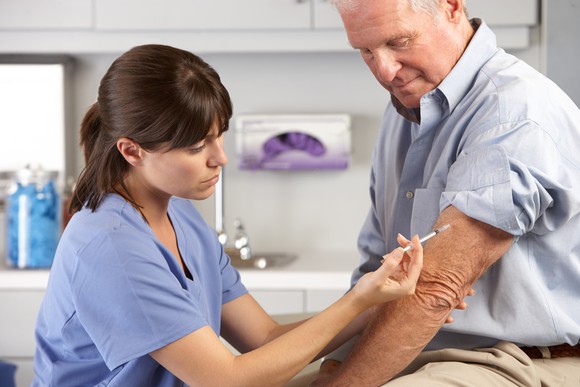 Inovio Pharmaceuticals (NASDAQ:INO) and Novavax (NASDAQ:NVAX) are two publicly traded vaccine specialists that appear to be particularly well-positioned to take advantage of this emerging trend. So, with this in mind, let's consider which stock offers the more compelling risk-to-reward profile right now.
Key value drivers
Although the market has reacted positively to Inovio's recent collaboration with GeneOne Life Science to develop a DNA-based vaccine aimed at preventing infection from the Zika virus, the biotech's most important value driver remains its experimental HPV-16/18-related high-grade cervical dysplasia vaccine candidate dubbed VGX-3100. The good news is that the company is reportedly on track to launch a pivotal phase 3 trial for VGX-3100 sometime in the fourth quarter of 2016.
VGX-3100 is Inovio's most advanced clinical candidate, and industry experts believe it could generate somewhere in the neighborhood of $500 million in peak sales. That would be a big haul for a company whose market cap has never exceeded $900 million.
Unfortunately, the biotech has a long history of taking the slow road when it comes to executing clinical trials in general, making it next to impossible to even handicap when this key vaccine candidate might be ready for a regulatory filing. As a result, investors can probably...
More