Nike's shares will reach $110 within a month

24 march 2015
Nike, the world's largest sporting-goods maker, issued solid financials for its fiscal 2015 third quarter ended February 28. Revenues increased 7% y-o-y to $6.46 bn, mostly in line with consensus estimate. Sales in North America, Nike's largest market, climbed 6%, while orders for delivery from March through July (a proxy for future sales) rose 15% surpassing estimates of 11.6%. The China division also bounced back. Revenues grew 15%, and orders advanced 23%, exceeding an estimate for a 13% gain. Total orders increased 11%, excluding the effects of foreign-currency exchange-rate fluctuations. That also topped estimates of 9.9% growth. Operating income jumped 18% y-o-y to $1.05 bn, and operating margin improved 130 basis points to 14.1%. Adjusted earnings per share grew 16% y-o-y to 89 cents and were well ahead of analysts' average forecast of 84 cents.
In the reported quarter, Nike repurchased a total of 6.5 mn shares for approximately $612 mn as part of the four-year, $8 bn program approved by the Board of Directors in September 2012. As of the end of FQ3, a total of 74.1 mn shares had been repurchased under this program for approximately $5.3 bn. A quarterly dividend was 28 cents per share, with indicated dividend yield of 1.1%.
I believe that Nike's powerful global portfolio of brands, concentration on adopting innovations to keep up with its customers, continuous focus on exploiting growth opportunities along with efficient risk management will allow the company to demonstrate solid growth rates going forward despite economic headwinds. In the current fiscal quarter, Nike expects that sales will gain in the mid-single percentage range while earnings per share will increase at a low-double digit percentage.
I believe that Nike's shares represent nice medium-term investment opportunity. Target price is $110. 
<!== INSTRUMENT %% %60% ==!>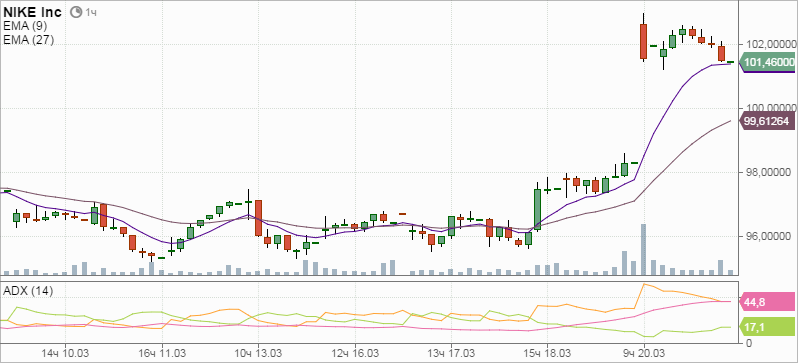 Voting is over
Waiting for


the right answer