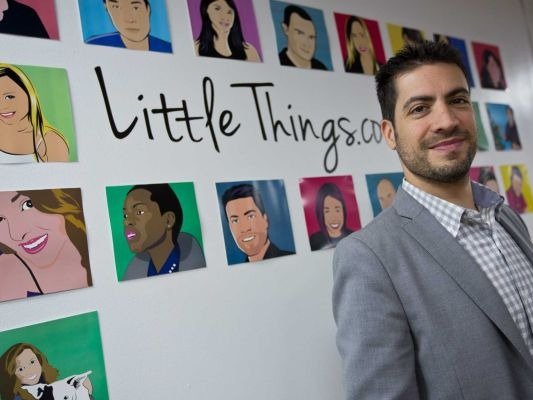 (LittleThings)
Joe Speiser, CEO of Little Things
In 2010, Alex Zhardanovsky and Joe Speiser started an e-commerce website called Petflow, which sold pet food, treats and supplies.
Petflow raised $15 million in venture capital funding from investors like Lightspeed Venture Partners. Speiser says Petflow created its Facebook page back in 2011 with the goal of attracting potential customers who might want to buy pet food, sharing a ton of animal-related pictures to the page to drive customer interest.
"We built up a fairly large audience to literally sell pet food between the years of 2010 and 2014," he told Business Insider.
Then, things changed.
"By 2014, we recognized that while e-commerce is great, we have a lot more fun working on digital media and content," Speiser said. "And that fit really well with our audience, which was women over 35 who just loved anything inspiring and feel good. Dog, cat, pet-related, and non-pet feel-good type of articles."
They started creating more and more content for Petflow's blog, and traffic just "took off," Speiser said.
"We recognized very early on in 2014 that what we had here was a much bigger story than just a media side of the business for Petflow. We actually had a media organization, a whole publishing unit," Speiser says.
In September 2014, Speiser and Zhardanovsky decided to leverage their audience for Petflow, spin out the business, and started producing a ton of content for their new venture, called LittleThings.com. The site usually posts adorable videos of animals and other kinds of feel-good, uplifting content: stories and videos of police officers doing good for citizens, underdog stories, and kitchen hacks.
Little Things has grown rapidly since its inception one year ago. In January 2015, the company had one employee. Now, eight months later, it has 50, and the media company is building out a video studio to produce more original content. Speiser proudly says Little Things has been profitable and revenue rich from day one.
When Little Things launched, its traffic was much lower than other viral content properties like Viral Nova, Elite Daily, and Upworthy. But its traffic is spiking now. Little Things' Facebook page is approaching 7 million fans, and its...
More