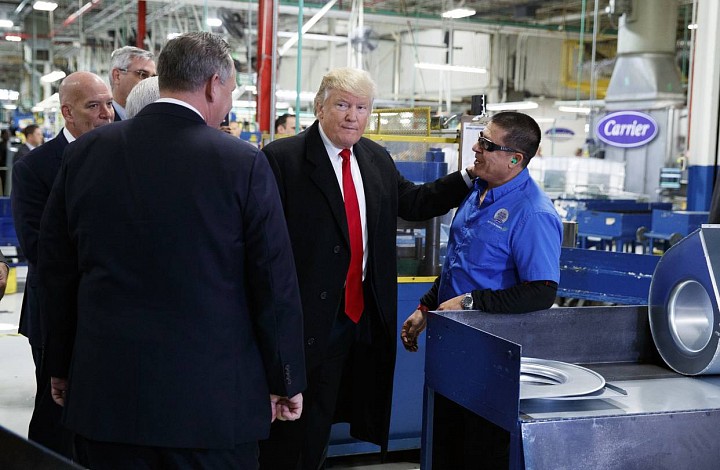 President-elect Donald Trump took credit Thursday for saving manufacturing jobs in Indiana and vowed to pursue stiff penalties for other American companies that decide to move operations overseas.
"We are going to have a lot of phone calls made to companies when they say they are thinking about leaving this country, because they are not leaving this country," Mr. Trump said at a Carrier Corp. furnace plant in Indianapolis. "Leaving the country is going to be very, very difficult."
Indiana officials agreed to give United Technologies Corp. $7 million worth of tax breaks over 10 years to encourage the company's Carrier unit to keep about 1,100 jobs in the state, according to people familiar with the matter, a deal struck after intense criticism of Carrier by Mr. Trump on the campaign trail.
The heating and air conditioning company plans to invest about $16 million to keep its operations in the state, including the furnace plant it had previously planned to close and shift the work to Mexico.
Mr. Trump's comments at the plant, among his first public comments as president-elect, offered a window into how he plans to engage with business leaders when he is sworn in on Jan. 20.
He offered a carrot-and-stick approach—a plan to lower the corporate tax rate to 15% from the current 35%; a drastic cutback in regulations; and steep penalties if companies move jobs out of the U.S.
"I want to tell all of the other companies—know that we are going to do great things for businesses," he said. There is "no reason for them to leave anymore."
Mr. Trump also reiterated his campaign promise that there would be a wall along the U.S.-Mexico border. "Trust me, we're going to build a wall," he said.
Mr. Trump and Vice President-elect Mike Pence, who is still the governor of Indiana, didn't discuss any of the incentives the state offered United Technologies to keep jobs in Indiana, but Mr. Trump did say any discussion like this requires "flexibility."
The deal...
More