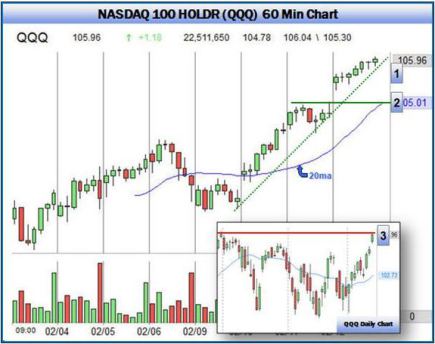 Yesterday the market did continue its grind higher from the prior day as it remained in a relentless five minute uptrend the entire day after gapping up in the morning. The SPY and the IWM are being dragged along and had similar price patterns.
Yesterday we discussed the likelihood that the market would continue the pattern from the prior day and that additionally would likely see a resumption of the stage II uptrends on the daily chart. We've had three solid days up now, and the QQQ has reached its ultimate prior high at "3". To get here it traded above three prior pivot highs on the daily chart so the strength is unquestioned. There is not necessarily a lot of resistance to stall the market here, but it is very tired as the hourly chart has gone nearly vertical. At "1" there is a rarely used trend line but it is there because the market has accelerated well above the 20 MA on the hourly chart for two days now and this usually dictates a pullback if the market is up in the morning. A likely support area would be "2", and a weak open would likely mean a range bound market for the day.
Due to the extended move of the market over the last four days into a resistance area, it is not the best time to enter a swing long position.