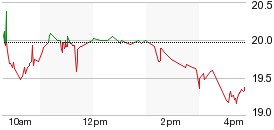 Zoetis Inc. ZTS is scheduled to report second-quarter 2015 results before the opening bell on Aug 4. Last quarter, the company posted a positive earnings surprise of 10.81%. The company has recorded positive earnings surprises in three of the four trailing quarters with an average beat of 7.54%. Let's see how things are shaping up for this announcement.
Factors at Play this Quarter
Zoetis' robust and diversified product portfolio should help support revenues. The company's livestock segment should continue to do well. Zoetis has acquired Abbott Laboratories' ABT animal health assets strengthening its pain and sedation product portfolio and diagnostic business.
However, foreign currency movements can prove to be a threat this quarter. The company has announced comprehensive operational efficiency initiatives, which are expected to generate cost savings of approximately $300 million by 2017. The company plans to modify its supply network, including plans to sell or exit 10 manufacturing sites over the long term and eliminate...
More