If there is one thing more or less guaranteed to create a bullish scenario for stocks, it is the sudden flip-flop of world-renowned newsletter writer Dennis Gartman once again to a short-of-stocks position. Worse still, his fellow newsletter writers, according to AAII, have not been this 'unbullish' since the trough in March 2009. Of course, what many are missing this morning isd 120 points of The Dow's gains are due to the panic-intervention by The BoJ at last night's Japan open...
Gartman: "Full-fledged bear market"... Long of tanker stocks, derivatives-hedged to a short overall equity position...
And AAII % Bullish drops to March 2009 levels (and bull/bear difference lowest since the dip in 2012)..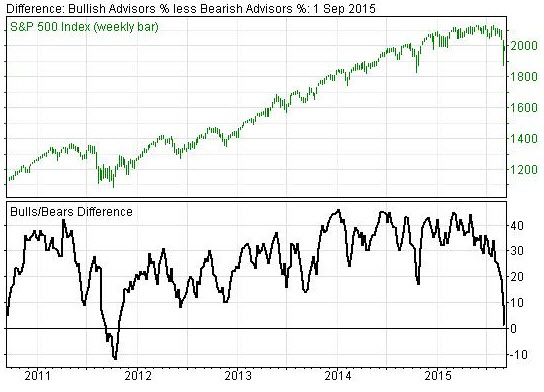 As Bloomberg notes,
Bullish newsletter writers tracked by Investors Intelligence sink to 27.8%, lowest reading since bear market nadir in March 2009 when bulls were 26.4%; bottom in stocks "may be close or at hand," says II. Bulls were at 31.6% last week.

 

Bears rise to highest since Nov. 2012 to 26.8% vs 22.5% last week

 

Correction falls to 45.4% from 45.9%, remains at highest levels since Oct. and is 4th week correction tops bulls

 

Bull-bear spread contracts to 1.0 vs 9.1, smallest spread since string of negative readings in Oct. 2011
But thgen again, this "rally" is predicated on The BoJ's liftathon at Japan's open last night...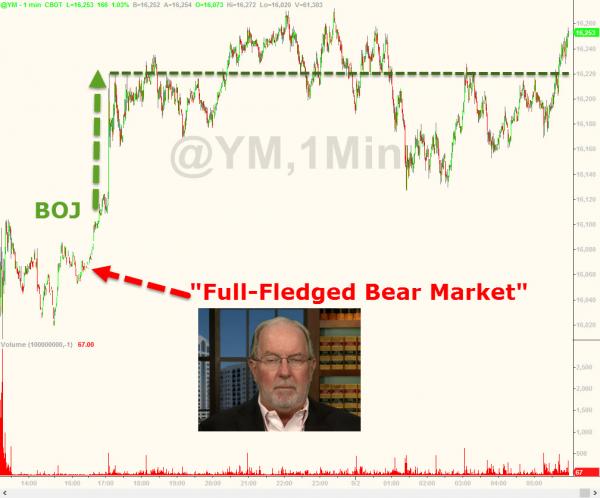 Charts: @Not_Jim_Cramer and Bloomberg