The drop in the price of energy will be initially blamed for the 0.8% MoM drop in Producer Prices Final Demand (far more than 0.4% drop expected) and the most on record. However, ex-food-and-energy, PPI also fell 0.1% (missing expectations of a 0.1% rise) and ex-food-and-energy-and-trade-services, PPI fell 0.3% - so it's not just the energy price drop (even though fuels and lubricants dropped 9.3% MoM). In fact the biggest MoM drop was in furnishings, computer hardware, and TV, video, and photo equipment.
PPI Final Demand saw its biggest MoM drop on record...
Perhaps just as problematic for The Fed... YoY PPI is unchanged - its worst level on record...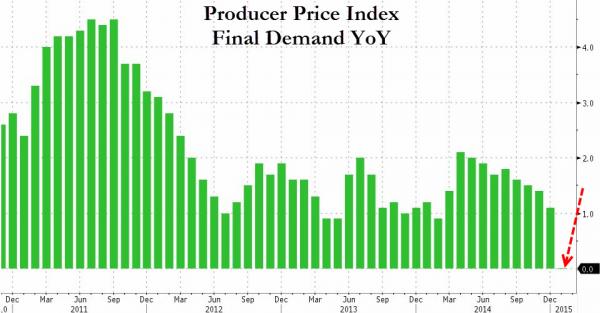 PPI Ex-food-and-energy also dropped - missing expectations of a 0.1% rise...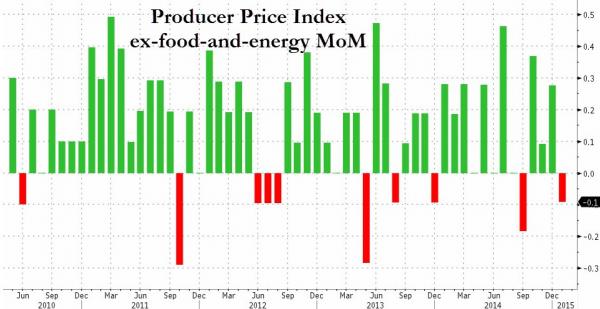 And while it will come as no surprise to anyone that final demand for goods cratered as a result of the tumble in crude prices which now appears to have reversed, it was a surprising drop of -0.2% in Final Demand Services that some may have a problem explaining:
Final demand services: The index for final demand services decreased 0.2 percent in January, the first
decline since falling 0.3 percent in September 2014. In January, prices for final demand services less trade,
transportation, and warehousing moved down 0.4 percent, and the index for final demand transportation and
warehousing services dropped 0.8 percent. In contrast, margins for final demand trade services advanced 0.5
percent. (Trade indexes measure changes in margins received by wholesalers and retailers.)

 

Product detail: In January, a major contributor to the decline in the index for final demand services was
prices for outpatient care (partial), which fell 0.7 percent. The indexes for automotive fuels and lubricants
retailing; securities brokerage, dealing, investment advice, and related services; television, video, and
photographic equipment and supplies retailing; mining services; and truck transportation of freight also
decreased. Conversely, margins for apparel, jewelry, footwear, and accessories retailing advanced 3.6
percent. The indexes for machinery, equipment, parts, and supplies wholesaling and for loan services
(partial) also increased.