Chipotle just missed earnings estimates.
"Earnings per share cratered, slumping from $4.45 a year ago to 87 cents. Revenue also slumped, falling from $1.2 billion a year ago to $998.4 million. Analysts were expecting EPS of 93 cents on revenue of $1.05 billion." (USANews)
Despite the bad numbers, CMG stock seems to be taking a resilient stance. This could be due to internal confidence .
"...In the fourth quarter, Chipotle bought back $460.7 million worth of CMG stock, then followed that up with another $583.8 million buyback in the first quarter.

Chipotle continued buying back stock last quarter, spending over $116 million on buybacks in the second quarter. That strategy could end up working out, but so far it's been a poor investment for shareholders and Chipotle's cash and investments have fallen from $879.2 million a year ago to just $270.1 million today." (USANews)
The question is whether this internal resilience is sustainable. For now, CMG stock prices does look like ready for a bullish correction. But the prevailing downtrend is too strong to call it a reversal just yet. 

CMG 4H Chart 7/22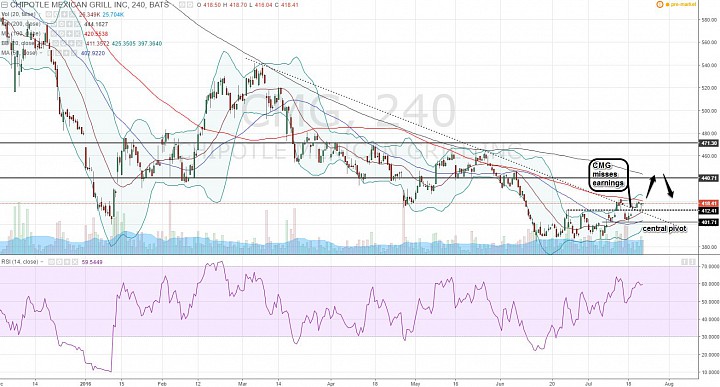 (click to enlarge)
Price bottom:
In the 4H chart we can see that despite missing earnings CMG confirmed a price bottom by holding above the central pivot.
There is still resistance currently at the 422.25 area.
A break above 422.25 can extend the current bullish correction towards the 440 area. 
I think we should anticipate resistance in the 440-442 area, especially if the RSI pushes above 70. 
Now, my bearish outlook could be weakened if I see further support around 410, which would suggest strength of the price bottom created from mid-June to early July. 
But for now, the prevailing trend is still king, and we need to respect that by limiting the bullish outlook.