TEGNA Inc. TGNA is a publicly traded broadcast and digital media company, based in Virginia. TEGNA offers a dynamic portfolio of media and digital businesses in the U.S. Presently, the companyowns 46 television stations and is the largest independent television station group of major network affiliates in the top 25 markets.
TEGNA's latest strategic moves to spin-off its auto-sales website Cars.com and sell of its job-hunting unit, CareerBuilder, looks impressive. TEGNA recently sold its 40.5% stake in web portal CareerBuilder, to an investor group led by Apollo Global Management and Ontario Teachers' Pension Plan Board and expects to collect almost $250 million from this sale, which will be used to clear off existing debt. TEGNA also completed the spin-off of its auto-sales website Cars.com into two publicly traded companies: TEGNA and Cars.com. The decision is likely to generate more value for investors than the current stock price of the company. Both broadcast TV and digital platforms are rapidly evaluating. Management has decided to expand its core broadcast TV business.
However, the U.S. broadcast TV industry has long been grappling with declining advertising revenues and global economic volatility. In addition, the broadcast TV industry is categorized as an intensely competitive one. TEGNA's major competitors include CBS Corp. (CBS), Gray Television Inc. (GTN) and Entercom Communications Corp. (ETM) to name a few.
Soft advertising market is also a near-term headwind for the company. Meanwhile, the media and entertainment industry is one of the rapidly changing industries in terms of technical changes in content creation, aggregation, and distribution platforms. Such technological changes and their latest upgrades add to the company's programming costs and expenses, which are likely to affect the bottom line.
Zacks Rank: TEGNA currently carries a Zacks Rank #3 (Hold). You can see the complete list of today's Zacks #1 (Strong Buy) Rank stocks here.
We have highlighted some of the key stats from this just-revealed announcement below:
Earnings: TEGNA beats Q2 2017 earnings estimate. The company reported adjusted earnings per share of 29 cents above the Zacks Consensus Estimate of 27 cents per share. Investors should note that these figures take out stock option expenses.
Revenue: TEGNA reported total revenue of $489.4 million, above the Zacks Consensus Estimate of $488 million.
TEGNA Inc. Price and EPS Surprise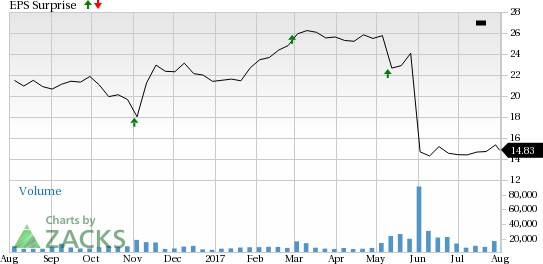 Key States to Note: As a result of the spin-off of Cars.com and entering into a definitive agreement to sell the majority ownership in CareerBuilder, the company has reclassified the historical financial results of the Digital Segment to discontinued operations. In the reported quarter, OTT (over the top) ad network Premion surged to 1,965 campaigns, 372 advertisers across 190 markets, from a base of zero since its launch less than 9 months ago.
Check back later for our full write up on this TEGNA earnings report later!
Will You Make a Fortune on the Shift to Electric Cars?
Here's another stock idea to consider. Much like petroleum 150 years ago, lithium power may soon shake the world, creating millionaires and reshaping geo-politics. Soon electric vehicles (EVs) may be cheaper than gas guzzlers. Some are already reaching 265 miles on a single charge.

With battery prices plummeting and charging stations set to multiply, one company stands out as the #1 stock to buy according to Zacks research.
It's not the one you think. See This Ticker Free >>
Want the latest recommendations from Zacks Investment Research? Today, you can download 7 Best Stocks for the Next 30 Days.
Click to get this free report
TEGNA Inc. (TGNA): Free Stock Analysis Report
To read this article on Zacks.com click here.
Zacks Investment Research