The Aussie had a decent overnight session, but not on the back of any of its own doing, but more so a move out of the NZD and into the AUD as a result of the RBNZ not raising rates like some had expected.
<!== INSTRUMENT %% %1440% ==!>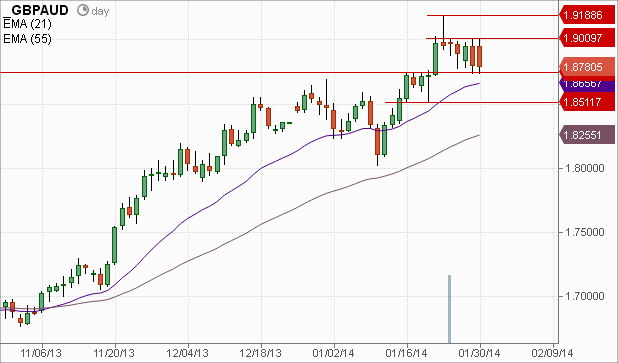 Therefore I am focusing on the GBP/AUD.

I believe the GBP is one of the better macro narratives out there, and while the BOE has had to abandon its unemployment rate forward guidance, I believe it is still seen as one of the central banks that would be first to raise rates out of the developed "West".

So, looking at this pair, I have a macro bias for the GBP and against the AUD, and I am looking to see if the 1.8735 area acts as a support zone.

This level is important because it acted as resistance earlier in the month, and now is being tested as support.

If the AUD move was just a short-term one, then I can see buying interesting coming in around this support.