Shares of Microsoft MSFT opened relatively flat on Wednesday, just one trading period ahead of what could prove to be another pivotal moment in company history. The software behemoth is slated to announce its fiscal first-quarter earnings results on Thursday afternoon, and investors can expect this stock to dominate headlines before, and after, its report is released.
Over the past several years, global demand for personal computers—and related software—has plummeted. This put Microsoft in a tricky situation; the company known for its innovative Windows operating system now needed to rebrand itself as a tech leader that could adapt to the times.
In many ways, Microsoft has done just that. For one, the company moved to a "freemium" model with Windows 10, offering the new OS as a free upgrade and focusing on the monetization of compatible apps and services.
We've also witnessed Microsoft's evolution through the aggressive growth of its Azure division. Azure is Microsoft's cloud computing platform that builds, deploys, and manages applications and web services through the company's own network of data centers. This unit has been growing at a nearly triple-digit rate over the past year or so.
So what's in store for Microsoft this quarter? Well, the current Zacks Consensus Estimates are calling for earnings of 72 cents per share and revenue of $23.53 billion. These results would represent year-over-year growth rates of -5.2% and +15.0%, respectively.
Furthermore, Microsoft is carrying a Zacks Rank #3 (Hold) into its report, and +0.83% Earnings ESP should make us feel more confident about the potential for an earnings beat.
Of course, earnings and revenue are just two of the many things investors will be looking at when Microsoft reports on Thursday. Check out these three additional things to expect: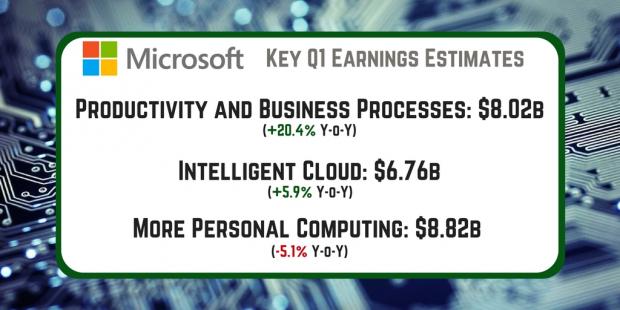 These important stock drivers are from our exclusive non-financial metrics consensus estimate file. These estimates are updated daily and are based on the independent research of expert stock analysts. Learn more here>>>
The first thing to note here is that Microsoft's Productivity & Business Processes unit will benefit from the company's acquisition of LinkedIn. That deal closed in December 2016, so year-over-year comparisons will be lifted by those revenues.
With that said, our latest consensus estimates are calling for Productivity & Business Processes revenues to gain about 20.4% to hit $8.02 billion. In the previous quarter, Microsoft topped our consensus estimates for this segment and recorded year-over-year growth of 21.2%.
Furthermore, we expect Azure to continue to be a key growth catalyst for Microsoft's Intelligent Cloud segment. Based on our latest consensus estimates, this unit's total revenues are expected to gain 5.9% to hit $6.76 billion. Last quarter, Intelligent Cloud outpaced our estimates and posted a year-over-year growth rate of 10.8%.
Finally, we expect the woes in Microsoft's More Personal Computing division to continue. More Personal Computing, which remains Microsoft's largest unit for now, includes the company's hardware, search advertising, and Windows ventures. These have been the areas that Microsoft has struggled with recently, as global demand for PCs has slipped.
After slumping 1.6% last quarter, our current consensus estimate calls for this segment to slip about 5.1% to $8.82 billion.
Make sure to check back here for our full analysis of Microsoft's actual results tomorrow!
Want more stock market analysis from this author? Make sure to follow @
https://twitter.com/Ryan_McQueeney
on Twitter!
Zacks' Hidden Trades
While we share many recommendations and ideas with the public, certain moves are hidden from everyone but chosen members of our portfolio services. Would you like to peek behind the curtain today and view them?
Starting today, and for the next month, you can follow all Zacks' private buys and sells in real time. Our experts cover all kinds of trades: value, momentum, ETFs, stocks under $10, stocks that corporate insiders are buying up, and companies that are about to report positive earnings surprises. You can even look inside portfolios so exclusive that they are normally closed to new investors. Click here for Zacks' secret trades>>
Want the latest recommendations from Zacks Investment Research? Today, you can download 7 Best Stocks for the Next 30 Days.
Click to get this free report
Microsoft Corporation (MSFT): Free Stock Analysis Report
To read this article on Zacks.com click here.