In a day in which the total breakdown of the market and the sheer dominance of various HFT algos was painfully obvious for any remaining carbon-based trader forms to see, we started off with not one but two E-mini trading halts following ridiculous buying slams.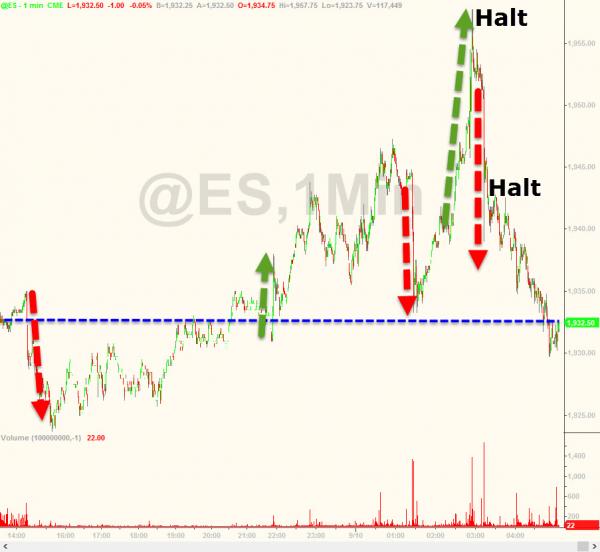 This is what we asked first thing this morning:
Anyone waking this morning will glance at US equity futures and happily note its unchanged-ness relative to weakness in Asia overnight. But behind the scenes of the last 12 hours was a total and utter farce of price discovery failure. S&P 500 e-mini futures have been halted twice (0551ET anbd 0612ET) in what one market observer exclaimed "looks like manipulation to me." So what exactly happened at 6:12am?
We now know.
As Nanex shows, what happened at 5:51 am and at 6:12 am, the ES breaks were nothing more than an aggravated case of HFT spoofing - the same infringement which will likely send Navinder Sarao behind bars for years - which first sent the E-mini soaring higher so fast, it broke the velocity logic circuit, and then it smashed the E-mini lower.
Here is the
https://twitter.com/nanexllc/status/642063791539273732/photo/1
spoofing instance, which prompted Eric Hunsader to declare the manipulator "busted." Indicatively, the entire move amounted to just about 20 S&P points on the way up, or about 0.4%.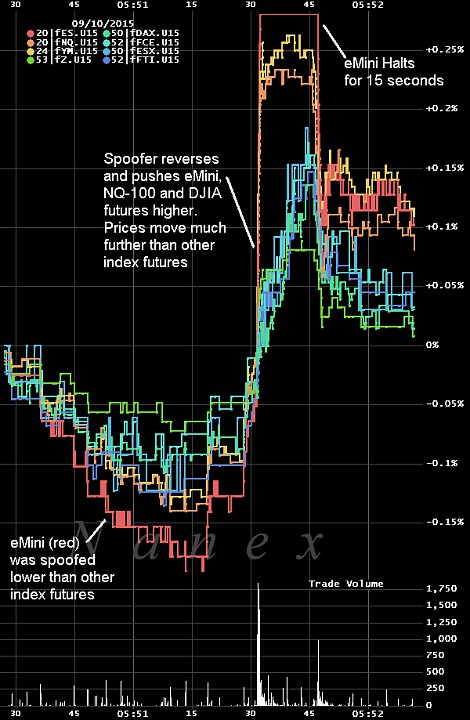 And the second one: what goes up must come down.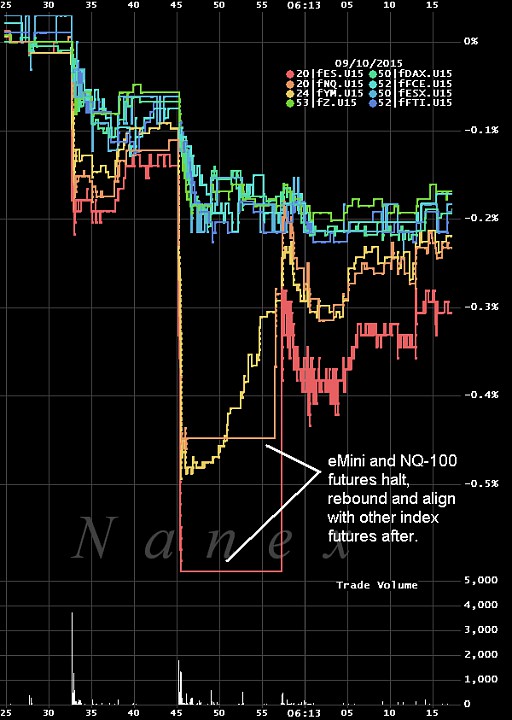 In summary: what we do know: a nearly 1% move up and down in the S&P due to blatan - and illegal - spoofing manipulation; what we don't know: the identity of the spoofer.
What is certain: if the culprit is a central bank or one of its trading agents like Citadel, the CFTC will never follow up. If it is some Indian living in his parents' basement in a London suburb, you can run but you can't hide.