GoPro (NASDAQ:GPRO) recently unveiled the "GoPro Developer Program" at a press event in San Francisco. The program enables developers to connect their third-party devices and mobile apps to GoPro cameras and create custom housing and mounts, paving the way for integrating its cameras into connected cars, toys, and other gadgets. The program has been quietly operating for over a year, and currently includes over 100 partners.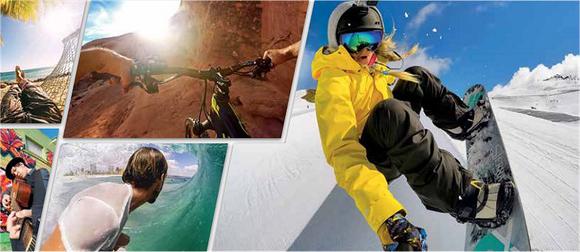 In a press release, GoPro CEO Nick Woodman called the program "a way for us to celebrate the innovative work of our developer community and more importantly, help enable what comes next." Let's check out what some of GoPro's partners have done so far, and whether or not these partnerships will boost sales of its action cameras.
Meet the developers
At the launch event, GoPro showcased products from 34 of its partners. Notable ones mentioned in GoPro's press release include BMW (NASDAQOTH:BAMXY), Mattel (NASDAQ:MAT), Telefonica (NYSE:TEF), and Timecode Systems.
BMW integrated video from GoPro cameras into its M-Laptimer app, which times laps and records car telemetry, speed, and location data. The app, which was launched in 2013, is designed for enthusiasts driving their cars in controlled environments. Mattel is integrating "child-friendly" GoPro-compatible camera housing and mounts into Fisher-Price's Jumperoo, Walker, and Gym exercise products for young children. GoPro states that the cameras will help parents capture "amazing milestones in their child's early years from a unique perspective."
Telefonica integrated GoPro support into its Xtreamr Mobile App, which enables users to live stream video to other people by sharing a link. The partnership closely resembles GoPro's recent deal with Twitter's (NYSE:TWTR) Periscope, which...
More