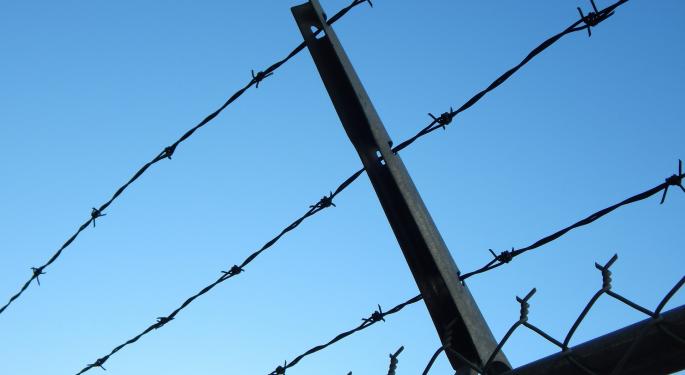 The U.S. Department of Justice announced it would be gradually moving away from the use of private prisons. Public companies that own private prisons with government contracts took a large blow on Thursday.
But was the plummet an overreaction?
Related Link: Prison Stocks Rocked As DoJ Announces It Will Stop Using Private Prisons
CNN's
https://twitter.com/LaMonicaBuzz
doesn't think so. Earlier today he said on Twitter that the declines of almost 40 percent seen in The GEO Group Inc GEO 38.43% and Corrections Corp Of America CXW 35.64% were "stupid," arguing that, while the DoJ's decision was "undoubtedly bad" for the companies, they still have state contracts.
Last wek, analysts at Canaccord explained that only about 11 percent of The GEO Group's revenue derived from its exposure to the Federal Bureau of Prisons.
"While we see low risk to GEO's BoP contracts, political rhetoric on the elimination of private prisons has weighed on the stock recently," the report added. "Adjusting out GEO's halfway houses (all federal halfway houses are operated by private players), GEO's exposure to the BoP is only just over 10%."
Given this backdrop, the analysts believed the company carried a low cash flow risk, "given the challenges associated with executing a plan that would eliminate the federal use of private prisons." One way or another, they think a worst-case scenario has already been priced in.
At time of the writing of this article, shares of GEO Group traded down 39.64 percent to $19.49, while shares of Corrections Corp tumbled 38.43 percent to $16.77.
Date
Firm
Action
From
To
Jul 2015
Canaccord Genuity
Initiates Coverage on
Buy
Jan 2015
CRT Capital
Maintains
Buy
Oct 2014
MLV & Co.
Initiates Coverage on
Buy
© 2016 Benzinga.com. Benzinga does not provide investment advice. All rights reserved.