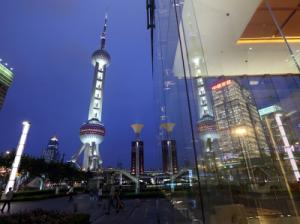 Bob Bishop, who once ran investments for billionaire George Soros, is betting his former boss is wrong about China. The world's second-biggest economy has had its hard landing and is on its way up, according to Bishop.
Rising infrastructure spending, steel production and demand for metal and heavy-duty trucks are signs of improvement for the nation's industrial and manufacturing sectors, said Bishop, a former chief investment officer at Soros Fund Management who runs $2.2 billion hedge fund Impala Asset Management. Soros said last week that China resembles the U.S. in 2007-08, when credit markets froze and triggered a global recession, and that its banking system is increasingly unstable.
More from Bloomberg.com: Chinese Navy in South China Sea Draws U.S. Admiral's Praise
"China already had the crash," Bishop said in an April 18 interview. "It bottomed at the end of 2015. It's going to feel like a much better economy in China over the next two years than people seem to think it will be."
Policy makers in China talked up growth and added stimulus this year to re-energize the economy. In March, the purchasing managers index ticked above 50, signaling expanding factory activity for the first time since June. A recovering China, which is a key importer of steel, copper, iron ore and other metals, bodes...
More