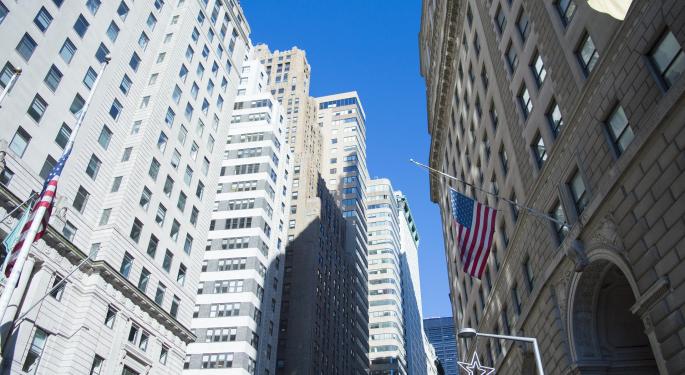 Macro Focus
Futures for the Dow Jones Industrial Average climbed 32 points to 19,829.00, while the Standard & Poor's 500 index futures rose 4.25 points to 2,256.75. Futures for the Nasdaq 100 index gained 7.75 points to 4,914.00.
Oil prices traded higher as Brent crude futures gained 0.74 percent to trade at $55.88 per barrel, while US WTI crude futures also rose 0.75 percent to trade at $52.72 a barrel.
Data on motor vehicle sales for December will be released today.
The Federal Open Market Committee will issue minutes of its latest meeting at 2:00 p.m. ET.
BZ News Desk Focus
Trump, Brexit, Cubs and death -- 2016 was certainly a year of surprises. Benzinga recently conducted a Twitter poll to determine the biggest shockers of 2016.
The U.S. Bureau of Labor Statistics will release its first jobs report of 2017 on Friday, which covers the final month of 2016. Ahead of Friday's job report is the release of initial jobless claims.
Sell-Side Themes
Biotech stocks, which had a torrid 2016, can look ahead to the unfolding year with some hope, although given the quirky nature of the clinical trial outcomes, a recovery is still in question. Wedbush has compiled a list of 13 emerging biotech stocks with catalysts in 2017.
Sell-Side's Most Noteworthy Calls
Deal Talk
Icahn Enterprises IEP announced an increase in the purchase price to be paid for all of the outstanding shares of common stock of Federal-Mogul FDML to $10.00 per share in cash. That's an increase from the previous offer of $9.25 per share.
Icahn Enterprises is extending the Offer to 12:00 midnight, New York City time, on January 17, 2017. All other terms and conditions remain unchanged. Icahn Enterprises says this is their best and final offer price and that no further increase to the offer price or extension to the Offer will be made.
In The News
Ford F announced plans to cancel a $1.6-billion plant in Mexico and to invest $700 million in metro Detroit's Flat Rock Assembly plant.
Exxon Mobil XOM has awarded former Chief Executive Rex Tillerson a $180 million retirement package as the company moves to break financial ties with President-elect Donald Trump's nominee for secretary of state. Tillerson will place the value of some two million company shares that he would have received over the next ten years in an independently managed trust. He will give up $4.1 million in cash bonuses that had been scheduled to be paid out over the next three years, as well as other benefits.
Of the 83,922 vehicles that Tesla TSLA produced last year, the electric carmaker delivered 76,230 vehicles. In Q4, the company delivered about 22,200 vehicles, 12,700 of which were Model S and 9,500 was Tesla's luxury SUV, the Model X.
House Republicans reversed plans to gut a congressional ethics watchdog on Tuesday after a backlash that included criticism from President-elect Donald Trump over the timing of the move. Late Monday night House GOP members voted to dramatically restructure the Office of Congressional Ethics, putting the independent office under the jurisdiction of a congressional committee. Trump tweeted that the timing of the change was poor and should not have been the first priority for the newly elected Congress.
Blogopshere
"Amazon is the sixth largest company in the S&P 500 by market cap. Incredibly, they wear this crown despite having earned less than 121 different companies over the previous twelve months. It's no secret that Amazon is an expensive stock... This massive outperformance has led to an explosion in hindsight bias, with investors fooling themselves into believing Amazon's ascent was somehow obvious or inevitable. But the truth is this 38,000% return was handed to nobody, it was earned through enormous dedication."
Trending
UGAZ TSLA JNUG NVLS AGRX SGYP AEM.CA GDX NUGT SONC ZYNE TZA VFC
© 2017 Benzinga.com. Benzinga does not provide investment advice. All rights reserved.