Today's main market mover was the Canadian Jobs data for June. In May, we saw 25.8K jobs added to the economy, while the unemployment rate sat at 7.0%. The forecast for June was not much worse, with unemployment expected to stay at 7% and with around 20.7K added employment. 
Instead, we got a -9.4K employment change reading, and an increase of the jobless rate to 7.1%.
As one might expect the reaction was CAD-negative. As you can see in the USD/CAD 4H chart, the pair has been trading sideways in July, consolidating during a bearish trend that started from the March and 2014 high at 1.1278. The reaction to the jobs report propelled USD/CAD above the consolidation resistance which was around 1.0695. The pair is now cracking the 1.07 handle, and the 4H RSI is pushing above 60, showing loss of the bearish momentum from June.

USD/CAD 4H Chart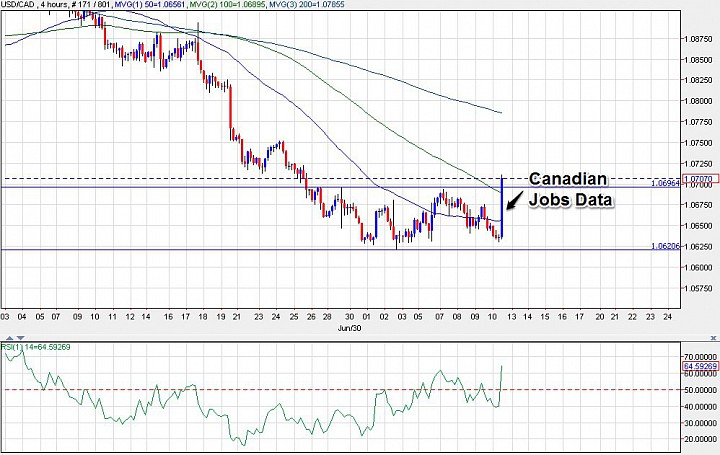 We should expect some short-term bullish attempt going into next week. This could be the start of the consolidation mode for July. However, we should not consider the market bullish. Why might we want to consider instead to fade this reaction rally?
1) Prevailing trend is bearish.
2) Jobs data has been volatile during the USD/CAD's bearish mode as the historic chart of the report reflects.


(source: forexfactory)
3) The May 9th report for April was also much softer than forecast, perhaps even more of a shock than today's report. May's reaction was similar, and was followed by a period of consolidation.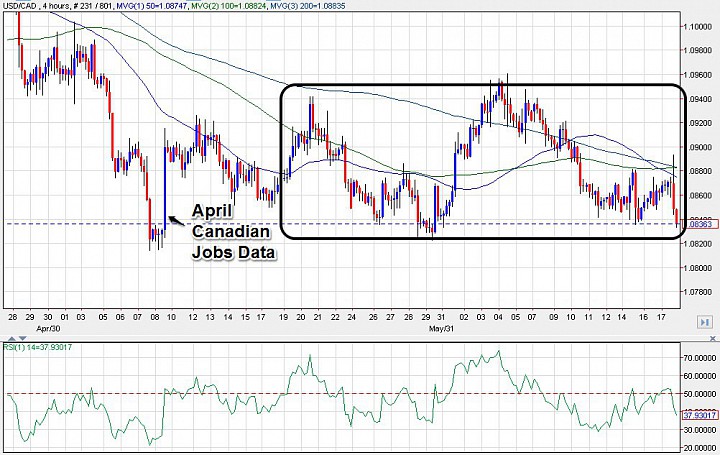 (USDCAD 4H chart reaction to April Canadian Jobs data reported on May 9)
Analogous to May's reaction, we should probably wait until the 4H RSI pushes above 70 before considering a bearish attempt. Also, we should first limit the bearish outlook to the 1.0620-1.0650 area, in anticipation of further consolidation. But we can keep a small position as a "runner" which won't hurt you if it goes to stop-loss, but can help extend gains if the prevailing trend continues.