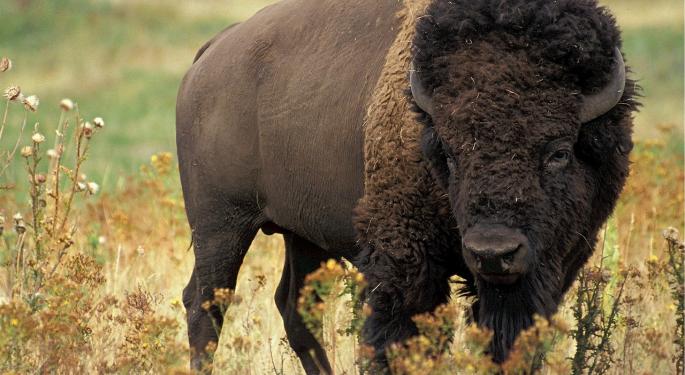 Bulls will be quick to point out that major U.S. stock indices are higher since the start of 2016 after a very rough start to the new year. Bears can also point out that the major stock indices are still lower today than they were a year ago.
So is the market in a bull or bear cycle? According to analysts at Bank of America, the answer is neither -- the market is in an "buffalo" cycle.
A "buffalo" market naturally takes cues from the animal's known traits. According to Bank of America's lead analyst Karin Kimbrough, a buffalo market "tends to roam over a long period of time, is herd-like and rather heavy."
Perhaps most importantly, a buffalo can "run the other way when worrisome obstacles arise." The analyst cautioned that the summer months could bring along several negative outcomes would create a "buffalo" like market where investors would "run the other way."
What Are some Of These Events?
According to Kimbrough, the remainder of June is full of events that could create obstacles and bring out the buffalos.
The remainder of June will be quite busy with an OPEC meeting, a Fed meeting, the "Brexit" vote and the approach of the U.S. political conventions which are scheduled for July.
September's slate includes a G-20 summit in China and the September FOMC meeting. October 14 is the effective date for the SEC money market reform.
To close out the year, the U.S. presidential election is scheduled for November 8 and the Federal Reserve will gather one last time for the year December 13 to 14.
"In this environment it's likely to be difficult for U.S. equity valuation multiples to expand above their current levels," the analyst argued. "Any further upside would probably be borrowing from returns in 2017 or require an earnings boost for the S&P 500. We don't rule out a modest one given the slightly improving."
© 2016 Benzinga.com. Benzinga does not provide investment advice. All rights reserved.
Source