Abbott Laboratories ABT is an Illinois-based company focused on bringing a diverse line of healthcare products to the market.
Abbott Labs reports its diversified business in four segments – namely Established Pharmaceuticals Division (EPD), Medical Devices, Diagnostics and Nutrition. The company has reshaped its portfolio through strategic acquisitions/divestitures in recent times. It has also been taking strategic steps to expand its footprint in the growing geographies and investing in R&D, which has resulted in numerous new product launches across its businesses.
In Feb 2015, Abbott completed the sale of its branded generics pharmaceuticals business in developed markets. Realignment of the EPD division through acquisitions in Latin America and Russia, along with business divestitures in developed markets, has positioned the company well for the coming quarters. However, unfavorable movement in foreign currency rates is affecting the top line adversely.
Abbott Labs has an impressive track record as the company beat estimates in the last four trailing quarters with an average positive earnings surprise of 3.05%.
Currently, Abbott Labs has a Zacks Rank #3 (Hold), but that could definitely change following the company's first quarter 2017 earnings report which was just released. (You can seehttps://www.zacks.com/stocks/buy-list/?ADID=zp_1link_invidea..."> the complete list of today's Zacks #1 Rank (Strong Buy) stocks here. ) We have highlighted some of the key stats from this just-revealed announcement below:
Earnings: The Zacks Consensus Estimate remained steady at 43 cents per share over the last 60 days. Abbott Labs' first quarter 2017 earnings per share from continuing operations of 48 cents outpaced this estimate by 11.6%. 
Abbott Laboratories Price and EPS Surprise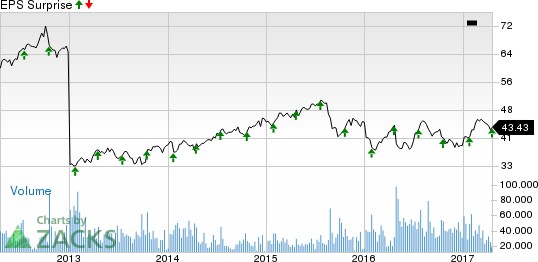 Abbott Laboratories Price and EPS Surprise | Abbott Laboratories Quote
Revenues: Abbott Labs posted first quarter revenues of $6.33 billion which has surpassed the Zacks Consensus Estimate for revenues of $6.11 billion.
Key Stats:  Worldwide Nutrition sales decreased 1.7% on a reported basis in the first quarter to $1.64 billion while worldwide Diagnostics sales increased 3.6% on a reported basis to $1.15 billion while total Established Pharmaceuticals sales increased 7.0% on a reported basis to $950 million. Revenues of Worldwide Medical Devices increased 100.2% on a reported basis to $2.39 billion. 
Major Factors: Per management, Abbott's first quarter performance reflects a strong start to the year 2017. Management reaffirmed its guidance range for reported EPS from continuing operations in the range of $0.92-$1.02. The integration of St. Jude is currently going on and its recently launched products are contributing to double-digit sales growth across several areas of Abbott's Medical Devices business.
Stock Price: Following the earnings release, share prices rose 2.92% during the pre-market trading session.
Check back later for our full write up on this Abbott Labs earnings report later!
5 Trades Could Profit "Big-League" from Trump Policies
If the stocks above spark your interest, wait until you look into companies primed to make substantial gains from Washington's changing course.
Today Zacks reveals 5 tickers that could benefit from new trends like streamlined drug approvals, tariffs, lower taxes, higher interest rates, and spending surges in defense and infrastructure. See these buy recommendations now >>
Want the latest recommendations from Zacks Investment Research? Today, you can download 7 Best Stocks for the Next 30 Days.
Click to get this free report
Abbott Laboratories (ABT): Free Stock Analysis Report
To read this article on Zacks.com click here.
Zacks Investment Research