In today's investing world, especially among retail investors, searching for growth stocks seems to have become paramount. The rise of tech powers like Facebook FB and Netflix NFLX only furthers this push to find companies that could jump from a small venture-funded firm to a $500 billion behemoth.
Of course, growth investing can be fun and exhilarating, but investors might also consider looking for stocks that present outsized value in this growth-obsessed market.
One company that currently offers investors outstanding bang for their buck is HP Inc. HPQ.
HP, a maker of desktop PCs, printers, laptops, tablets, and other electronic mainstays, is in the midst of a solid run over the last two years. Shares of the company have soared over 44% so far this year, including a 12.25% jump in the last 12 weeks alone.
On top of this, HP is currently a Zacks Rank #2 (Buy) and sports an "A" grade for Value in our Style Scores system, and the consumer electronics power's Growth and Momentum scores help it earn an overall VGM grade of an "A."
Now let's take a look at why HP might be a great play for investors in search of value.
Fundamentals
Many investors will look to the tried and true price to earnings ratio as the first indicator of a company's value.
HP is currently trading at 12.09x earnings, which marks a discount compared to the "Computer – Mini computers" industry's average. HP also presents a better value compared to rivals Apple AAPL and Lenovo LNVGY, which sport P/E ratios of 15.64 and 17.85, respectively.
HP also demonstrates why it is currently a strong value play with its great price to sales ratio. The company's 0.71 P/S ratio marks over a 36% discount compared to its industry's 1.12 average. And when investors compare HP to Apple's 3.90 price to sales ratio, the electronics maker looks even better.
HP Inc. PS Ratio (TTM)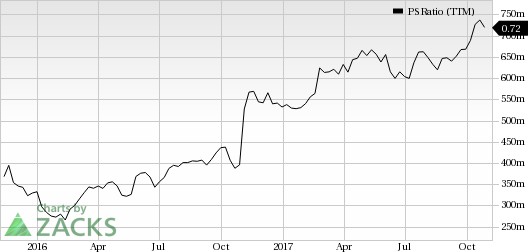 Value investors will also be happy to know that HP currently presents a dividend yield of 2.68%.
Lastly, just so growth-minded investors aren't scared off too quickly by the notion that HP is only a value investment, the company's earnings are expected to jump 22% when it reports its fourth-quarter results on Nov. 21—based on our current consensus estimates. What's more, HP's revenues are projected to climb nearly 6% to hit $13.25 billion.
Zacks' Hidden Trades
While we share many recommendations and ideas with the public, certain moves are hidden from everyone but selected members of our portfolio services. Would you like to peek behind the curtain today and view them? Starting today, and for the next month, you can follow all Zacks' private buys and sells in real time. Our experts cover all kinds of trades: value, momentum, ETFs, stocks under $10, stocks that corporate insiders are buying up, and companies that are about to report positive earnings surprises. You can even look inside portfolios so exclusive that they are normally closed to new investors. Click here for Zacks' secret trade>>
Want the latest recommendations from Zacks Investment Research? Today, you can download 7 Best Stocks for the Next 30 Days.
Click to get this free report
HP Inc. (HPQ): Free Stock Analysis Report
Netflix, Inc. (NFLX): Free Stock Analysis Report
Facebook, Inc. (FB): Free Stock Analysis Report
Lenovo Group Ltd. (LNVGY): Free Stock Analysis Report
Apple Inc. (AAPL): Free Stock Analysis Report
To read this article on Zacks.com click here.
Zacks Investment Research