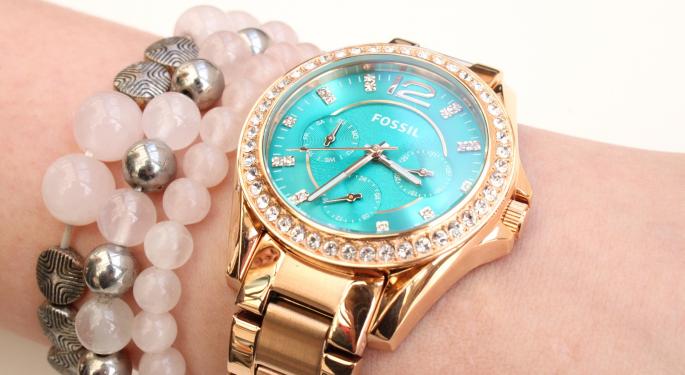 The real value in wearable devices may be more about data collection than data interaction. Pacific Crest analyst Andy Hargreaves believes that data collection will become more commoditized, a transition that will benefit some companies and hurt others in the space.
"In the case of wearables, we believe the relative success of data trackers versus the relative failure of Apple Watch suggests that consumers are significantly more interested in the data collection capacity, rather than the ability to analyze and interact with data directly through the wearable," Hargreaves explained.
Pacific Crest believes that this focus on data collection is good news for fashion watch makers and bad news for tech companies due to the relatively simple nature of data collection versus data analysis and interaction.
In fact, Hargreaves believes that companies like Fossil Group Inc FOSL may now have the advantage during the second wave of wearable devices. He sees the trend as mostly neutral for Apple Inc. AAPL, which he believes may now expand its watch offerings into lower-function devices.
The biggest losers from this shift in approach could be technology-driven wearable device makers like Fitbit Inc FIT and Garmin Ltd. GRMN.
Pacific Crest maintains and Overweight rating and $127 price target for Apple. The firm maintains Sector Weight ratings for Fitbit, Fossil, Garmin and Movado Group, Inc MOV.