Visa Inc. on Monday confirmed plans to buy its European counterpart Visa Europe for up to EUR21.2 billion ($23.4 billion) in cash and stock, a deal that would bring Visa's global operations under one roof.
The payments network had held sporadic talks over the years with Visa Europe, and the tie-up marks Visa's biggest deal ever. The Wall Street Journal had reported last week that was a deal was imminent.
The announcement came as Visa reported results for its September quarter that were mostly in line with analysts' estimates, while payments volume increased 12% on a currency adjusted basis. Visa, which recently boosted its dividend, also unveiled a new $5 billion share buyback program.
Under the terms of its deal for Visa Europe, the company will pay EUR11.5 billion ($12.68 billion) in upfront cash, in addition to EUR5 billion ($5.51 billion) in preferred stock convertible into common shares. The deal includes up to EUR4.7 billion ($5.18 billion) in payments, payable following the fourth anniversary of the transaction's closing, which would be triggered by the achievement of revenue targets.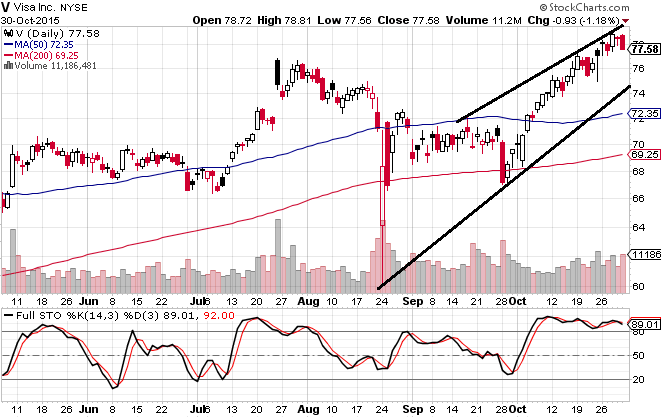 Think we can see a corretion until $74-75 per share in a couple days. What do you think?