I've read this article on marketwatch.com. 
Apple Inc. suffered its first revenue decline in 13 years, but not all of the company's segments are following the same track.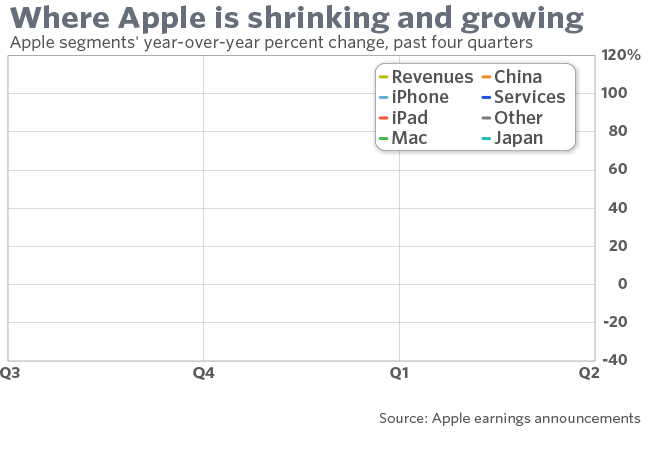 Most notable for Apple was the first ever year-over-year decline of the iPhone, Apple's biggest moneymaker. iPhone revenues are especially important because of the continued decline for the tech giant's two other major hardware offerings, the iPad tablet and Mac personal computers.
All three of those products saw revenue decline year-over-year in the company's second quarter, though Chief Executive Tim Cook said he expects the iPad to have its best growth in revenues in two years during the current quarter. That's not a high bar to cross — the second quarter was the best performance of the past four, and sales still dropped 18.8% from the previous year.
One of the most concerning declines for investors was Apple's sudden drop in sales in China, where revenue nearly doubled its sales just two quarters before. While macroeconomic concerns gave Apple respite from its declining Chinese business the previous quarter, those problems seem to be easing for other companies. 
Apple did show off a few bright spots headed the other way, however. While the company has yet to break out Apple Watch sales on their own, the category that includes the smartwatch — which Apple labels "other products" — grew 30% in the quarter.
The area Apple executives and analysts seem to point to the most for revenue growth also performed well. Services, which includes consumer software offerings such as Apple Music and iCloud, was the second-biggest moneymaker after the iPhone, thanks to 20% year-over-year growth.
In geographic areas, there was only one that managed an uptick. While China declined after previously shooting higher, Japan headed the other way, as sales in that Asian country increased 23.7% after declining in the previous quarter.