Beanoil almost ready for a long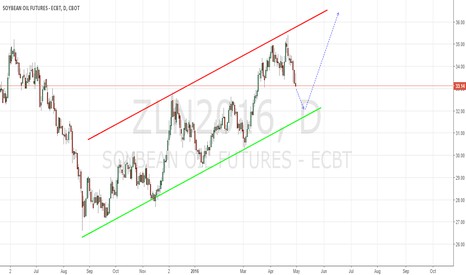 Beanoil:
Price has been moving in a wide-ranged ascending channel from Sep/Oct15 onwards with higher highs and higher lows. Since about two weeks price started again a correction to the down side but still within the boundaries of the ascending price channel.
The candle of last Friday was a perfectly shaped ´inverted Hammer´ which is a strong reversal signal and which indicates that a reversal of the price back up is imminent. Price could well trade a bit lower during the first 2 or 3 trading sessions of next week but we expect price to reverse back up soon.
We favour a bit further decline to the 3250/3200 level during early next week after which we expect price to trade back up to the 3600 level during the remainder of May and possibly into June.