Valeant Pharmaceuticals is going to release their earnings tomorrow morning. I think this is one of the most discussable companies in the stock market right now - however, there are two opposites points regarding the stock. The main concern of negative forecasts is their debt, however, if you take a look at their payout schedule you'll find out that Valeant's debt is well distributed over the next several years. The volume is decently high though. You should always keeps in mind that Valeant has a few drugs coming soon, company has more than $10B in annual top-line sales. 
Analysts are mostly positive about VRX now: 4 'hold', 11 'outperform' and 5 'buy' recommendations. Personally, I'm waiting for a huge jump here - price target is at least 50% higher than current stock price. I think that as soon as Valeant at least tops the estimates, the stock will soar. And this jump will be huge. Revenue is expected to increase 3.5% on q-o-q basis and go down almost 10% on y-o-y basis:

Here is the EPS estimates:

Source: Financial Times
As far as we are waiting for a volatility jump, I'd recommend to buy a straddle. However, the price is really high due to increased open interest. I still recommend buying straddle, but we can reduce the costs by buying the OTM put and call options. I'm using this strategy very often during the earnings season because it helps to handle the volatility jumps and, as it was with FEYE, get some hefty returns. So my initial outlay in this case will be the following: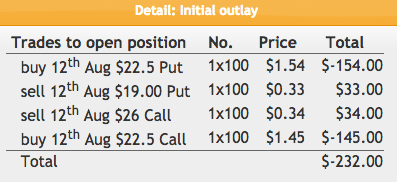 And the P&L table in dollar value is the following:

As you can see from this table, we are going to enter a green zone if the stock goes up or down more than 11%. It doesn't seem impossible, because I think it's time for Valeant to surprise the market. As I've already mentioned, if the company tops the estimates, at least tops, the stock will fly to the stratosphere because nobody is waiting for a surprise. If the underperforms, it will go into a deep minus, because it means that they definitely have some serious problems. Your maximum return is almost 51% of your initial outlay which sounds really impressive. 
However if you think that the stock won't fluctuate that much, I'd recommend you to sell a strangle. In this case your potential outlay and P&L table would be the following: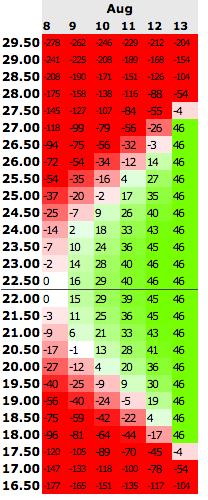 As you can see, you can earn up to $46 per 100 contracts. That's not a lot, but the risk is limited - the stock will unlikely fluctuate more than 20% after the earnings. 
You should decide which strategy you want to use. It depends whether you are ready to take some risk or not.