Novartis AG NVS reported second-quarter 2017 core earnings of $1.22 per share, beating the Zacks Consensus Estimate of $1.16 but the recorded figure was a penny lower than the year-ago figure of $1.23.
Revenues declined 2% to $12.2 billion as volume growth was offset by the negative impact of generic competition and pricing but beat the Zacks Consensus Estimate of $12.1 billion
A look at Novartis' share price movement in the last three months shows that the stock outperformed the Zacks classified Large Cap Pharma industry. Its shares have rallied 14.5% compared with the 7.2% gain recorded by the industry.

All growth rates mentioned below are on a year-over-year basis and at constant exchange rates.
The Quarter in Detail
Novartis operates under three segments: Innovative Medicines (Pharmaceuticals), Alcon (Ophthalmology unit) and Sandoz (Generics).
The Innovative Medicines division recorded sales of $8.3 billion, up 1%. Generic competition and pricing pressure impacted sales at the segment, primarily due to the entry of generics for Gleevec in the U.S and Europe. Nevertheless, growth products – Cosentyx, Entresto, Promacta/Revolade, Jakavi, Tafinlar + Mekinist and Gilenya boosted sales.
Psoriasis Cosentyx sales surged 90% on the back of strong growth in its three approved indications while Entresto too had solid quarter as sales benefited from continued access improvements, expansion of sales force in the U.S and reimbursement in Europe. Oncology franchise grew 9% driven mainly by Promacta/Revolade, Jakavi, Tafinlar + Mekinist.
Sales at the Sandoz division were $2.5 billion, down 4% as volume growth was offset by price erosion mainly in the U.S. Sales in the U.S. declined 15% due to pricing pressure in retail generics and prior year launch timing. Biopharmaceuticals sales grew 6% to $260 million mainly driven by Zarxio in the U.S.
Sales at the Alcon division were $1.5 billion, up 3%. Surgical sales increased 3% driven by growth in cataract consumables and vitreoretinal, intraocular lenses returning to growth globally. Vision Care sales were up 2% fuelled by the continued double-digit growth of Dailies Total1.
2017 Outlook Reiterated
Novartis expects net sales to be broadly in line with the 2016 levels after including the impact of continued genericization of Gleevec/Glivec in the U.S. and Europe. Management had earlier estimated the impact of generic competition on sales to be approximately $2.5 billion in 2017.
Pipeline Update
Novartis' pipeline candidates' progress has been encouraging. The oncology portfolio continues to gain traction. Breast cancer drug Kisqali received a positive CHMP opinion as a first-line option for HR+/HER2- advanced or metastatic breast cancer in combination with any aromatase inhibitor in Europe. The drug is already approved in the U.S. The company also received FDA approval of Rydapt for the treatment of newly diagnosed FLT3-mutated acute myeloid leukemia (AML) and three types of systemic mastocytosis. In addition, Zykadia received FDA and EMA approval for first line use in ALK-positive advanced non-small cell lung cancer (NSCLC) while Tafinlar + Mekinist received FDA approval for treatment of BRAF V600E mutant metastatic NSCLC.
CTL019 was unanimously recommended for approval by an FDA Oncologic Drugs Advisory Committee in July for the treatment of pediatric and young adult patients with relapsed or refractory (r/r) B-cell acute lymphoblastic leukemia.
Meanwhile, Cosentyx was granted approval in Europe for a label update to include 52 week data from CLEAR study demonstrating long-term superiority of Cosentyx compared to Johnson & Johnson's JNJ Stelara in psoriasis.
Sandoz received approval and launched two major biosimilars in the EU- Erelzi, the biosimilar of Amgen, Inc.'s AMGN Enbrel and Rixathon, the biosimilar version of Roche Holdings RHHBY MabThera to treat blood cancers and immunological diseases. The EMA also accepted proposed biosimilars of adalimumab and infliximab. Sandoz' generic version of asthma drug Advair Diskus was accepted by FDA.
Novartis AG Price and EPS Surprise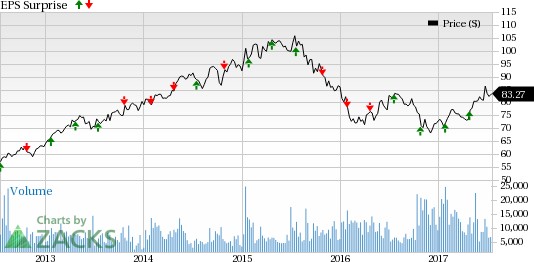 Our Take
Novartis second-quarter results were encouraging as the company beat both earnings and sales estimates. However, Sandoz's performance was disappointing as it battles pricing pressure.
In the first half of 2017, Novartis announced that it is mulling strategic options for Alcon which includes retaining the business separation via capital market transactions such as a spin-off or an initial public offering. The company will throw more light on its plans for Alcon by the end of 2017.
On a positive note, growth drivers like Cosentyx and Entresto, more than offset the impact of generic erosion, mainly due to Glivec. Cosentyx hit blockbuster status in 2016. The recent approval of Kisqali in the U.S. and FDA panel recommendation for CTL019 also bodes well for the company's portfolio.
Zacks Rank
Novartis currently carries a Zacks Rank #3 (Hold).
You can see the complete list of today's Zacks #1 Rank (Strong Buy) stocks here.
5 Trades Could Profit "Big-League" from Trump Policies
If the stocks above spark your interest, wait until you look into companies primed to make substantial gains from Washington's changing course.
Today Zacks reveals 5 tickers that could benefit from new trends like streamlined drug approvals, tariffs, lower taxes, higher interest rates, and spending surges in defense and infrastructure. See these buy recommendations now >>
Want the latest recommendations from Zacks Investment Research? Today, you can download 7 Best Stocks for the Next 30 Days.
Click to get this free report
Roche Holding AG (RHHBY): Free Stock Analysis Report
Novartis AG (NVS): Free Stock Analysis Report
Johnson & Johnson (JNJ): Free Stock Analysis Report
Amgen Inc. (AMGN): Free Stock Analysis Report
To read this article on Zacks.com click here.
Zacks Investment Research