First I want to highlight that you can watch my analyses and trade ideas also on TWITTER (@FlexibleTrader) and you can also watch my LIVE TRADES on YouTube (here). So be sure to check out MY TRADING STYLE in more details!
Each week I bring my short-  and long-term view of FOReign EXchange market. This time I am focused on the major Yen-pair, so let us dive into todays blog post…
The USD/JPY Currency Pair
from the long-term perspective has been in a very strong uptrend since 10/2011, maybe mainly due to the monetary politics of Bank of Japan.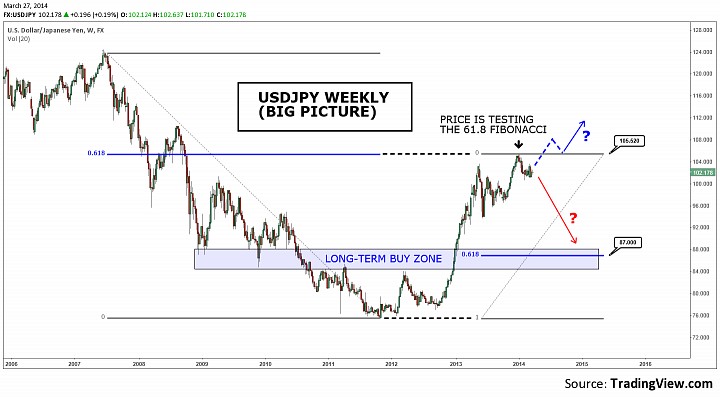 In the chart above we can easily find out, that the price has exactly touched 105.52, which is also the 61.8 Fibonacci retracement level of the big downmove (2007 – 2011).
Does that mean anything?
Well, it depends on an interpretation, but undoubtly this might be a very important psychological level, where traders and investors make their decisions.
From the very long-term perspective (based on weekly timeframe), there are two possible scenarios:
LONG: Price continues on the way up and breaches 105.52 with a strong close above, which might be certainly a sign of strength for the uptrend
SHORT: Price starts to retrace down more significantly, in this case we might await a move to 87-ish zone, which I highlighted in the chart above.
Let us come closer to a lower time frame for rather near-term view…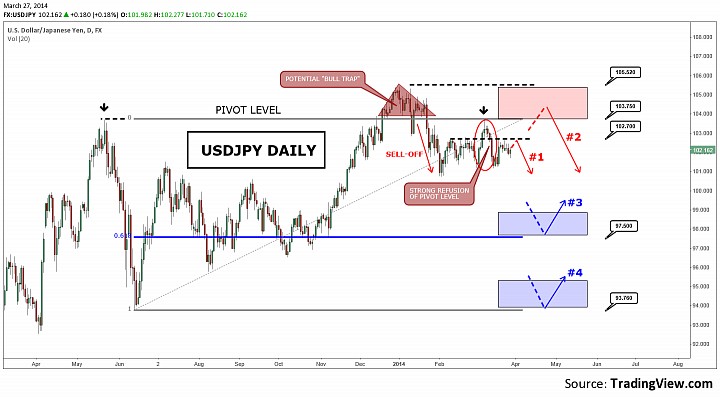 When I employ our proprietary methodology (sign up here)  of market analysis, I can see a very interesting price action. The market still seems to be making higher highs and higher lows, which is certainly the way, how a trending market behaves, but…
… when we look at what has happened "recently", we can see, that even if the market broke through 103.75 (05/2013 HIGH), it has shown a kind of "hesitation" then and relatively quickly fell down below.
WHAT IS THE MARKET TRYING TO TELL US?
In my opinion, that level (103.75) is really psychologically important. Moreover, the market started to consolidate below and re-tested 103.75 again (7th March 2014) with a very nice long-tailed bar (shooting star in terms of candlestick terminology), so based on that, I am able to project some potential levels/areas for high-probability trade ideas.
SHORT SCENARIOS
#1: Re-test of recent consolidation range upper boundary (102.70) with a further drop
#2: Re-test or another false-break of 103.75 and further drop, this might be a scenario for a broader downmove, but only in case there is no strong close above 103.75
LONG SCENARIOS
#3: In case of a drop to 97.5 there might be a nice opportunity for longs around that level, since it would be a rather deep retracement to the bottom part of consolidation triangle (05/2013-10/2013)
#4: In case of a drop to 93.0-94.0 area there might be even a greater potential for longs, but that levels are very far from now, so this is clearly a long-term view at the moment
Personally I am more interested in shorts in this pair, so I will maybe try to get short at 102.7 or 103.75. Let us see…
----------------------------------------------------------------------------------------------------------------
As usual, my trading idea is based on an uncoventional trading methodology used in our SMB Capital Forex and Futures Training Program.
For a deeper understanding you can join us on http://www.smbtraining.com/overview/forex-training
or you can watch my LIVE TRADINGVIDEOS ON YOUTUBE.
In case of any questions or comments, be sure to send me an email or contact me via other social media as stated below.
Petr Suchanek
Forex, Futures & Options Trader
Email: psuchanek@smbcap.com
Twitter: @FlexibleTrader
StockTwits: http://stocktwits.com/FlexibleTrader
Training program: http://smbu.us/smbwho