We updated our research report on AutoZone, Inc. AZO on Jul 10.

This Memphis, TN-based specialty retailer of automotive replacement parts and accessories operates in the Do-It-Yourself (DIY) retail, Do-It-for-Me (DIFM) commercial and other customer markets.

AutoZone's capital and operating expenses are likely to increase in the next three years as a result of its plans of opening two–three new distribution centers. Each distribution center is projected to cost around $60 million. Although this investment is likely to benefit the company in the long run, the addition of these distribution centers will also result in higher costs for the company for the next few years.

Also, AutoZone is raising the frequency of deliveries to its stores from once a week to three to five times a week. Although, this strategy will prove to be advantageous in the long run, its implementation is leading to gross margin headwinds of around 15–20 basis points every quarter due to higher supply chain costs.

AutoZone has underperformed the Zacks categorized Retail/Wholesale Auto Parts industry in the last three months. The company recorded a 26.8% decline in share price during this period compared with the industry's loss of 22.3%. Also, both its current quarter and yearly earnings estimates have declined lately.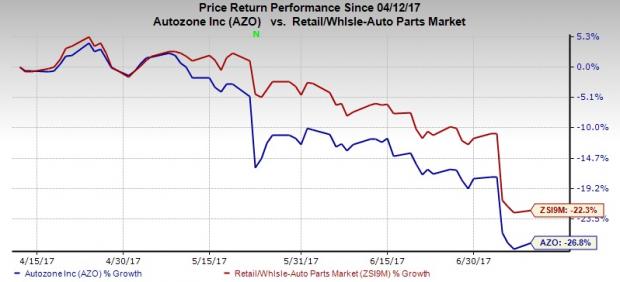 Currently, AutoZone carries a Zacks Rank #5 (Strong Sell).

Some better-ranked stocks in the auto space are Allison Transmission Holdings Inc. ALSN, Cummins Inc. CMI and Continental AG CTTAY. While Allison Transmission Holdings sports a Zacks Rank #1 (Strong Buy), Cummins and Continental AG carry a Zacks Rank #2 (Buy). You can see the complete list of today's Zacks #1 Rank stocks here.

Allison Transmission has an expected long-term growth rate of 11%.

Cummins has an expected growth rate of around 11.7% in the long term.

Continental has an expected long-term growth rate of 7.8%.

More Stock News: 8 Companies Verge on Apple-Like Run

Did you miss Apple's 9X stock explosion after they launched their iPhone in 2007? Now 2017 looks to be a pivotal year to get in on another emerging technology expected to rock the market. Demand could soar from almost nothing to $42 billion by 2025. Reports suggest it could save 10 million lives per decade which could in turn save $200 billion in U.S. healthcare costs.

A bonus Zacks Special Report names this breakthrough and the 8 best stocks to exploit it. Like Apple in 2007, these companies are already strong and coiling for potential mega-gains. Click to see them right now >>

Want the latest recommendations from Zacks Investment Research? Today, you can download 7 Best Stocks for the Next 30 Days.
Click to get this free report
AutoZone, Inc. (AZO): Free Stock Analysis Report
Allison Transmission Holdings, Inc. (ALSN): Free Stock Analysis Report
Cummins Inc. (CMI): Free Stock Analysis Report
Continental AG (CTTAY): Free Stock Analysis Report
To read this article on Zacks.com click here.
Zacks Investment Research