As we reported over the weekend, Goldman's clients are scratching their heads. As David Kostin explained their confusion, "investors are struggling to reconcile how extreme valuations of both assets can co-exist. It is counterintuitive, but the yield gap relationship between stocks and bonds is currently consistent with the past decade average. Equity risk premium (ERP) is not static and could shift from either direction. "Risk-on" has been the clear mantra since the post-Brexit low. But sentiment can reverse quickly."
Confused or not they are BTFDing, and Goldman was surprised by their bullishness of its clients, who argue that "sustained low rates will support P/E multiples of 20x or more. The Fed Model relates the earnings yield (5.7%) to the Treasury yield (1.5%). The current 420 bp yield gap is near the 10-year average. Exhibit 2 shows the sensitivity of this model. Assuming a steady bond yield, reversion to the 35-year average gap of 250 bp implies a S&P 500 year-end level of 3075 while the 5-year average gap implies 1900."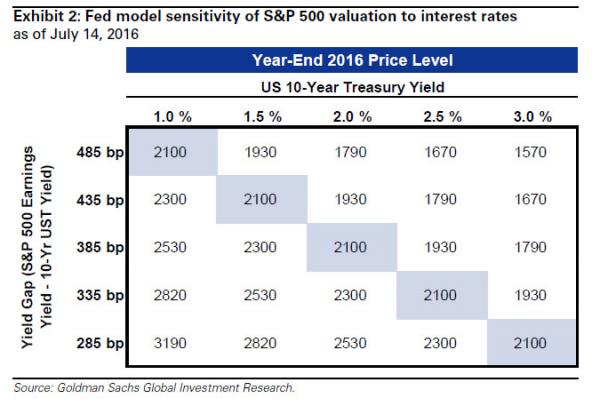 As a result, Goldman found itself in the confusing position of being far more bearish than its clients, predicting that the S&P will rise less than 150 points over the next two and a half years...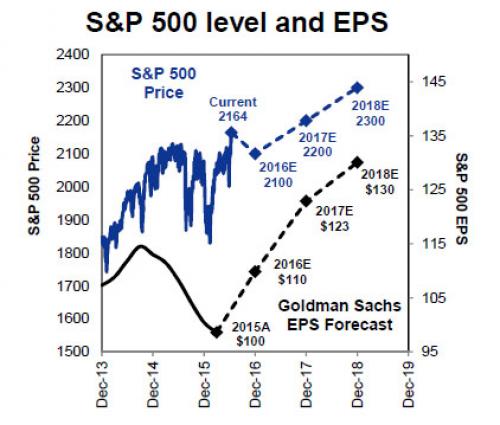 .....
More