Alphabet Inc.'s GOOGL Google finally received some relief in Europe, winning a court battle with French authorities that saved it a massive $1.3 billion (1.12 billion euros) in tax bill.
This six-year long legal battle was related to whether Google is using unauthorized tax-avoidance schemes to shift profits abroad and reduce tax bills.
An administrative court in Paris relieved Google of the tax burden on Wednesday, stating that "Google Ireland Ltd. isn't taxable in France over the period 2005-2010".
The French tax authority claims that Google avoided taxes in France by channeling sales in the country through its subsidiary in Ireland over a period of five years ending 2010.
The French government is considering an appeal that has to be filed within six months.
Google so far has not had much success in fighting taxes in Europe. Recently it settled a tax dispute with Italian authorities by paying $349 million (306 million euros).
Last year, the company reached an agreement with UK tax officials to pay nearly $190 million in British back taxes and make changes in calculating its UK tax bill.
Other major tech companies like Apple AAPL. Facebook FB and Amazon AMZN have also been investigated earlier in Europe for scrimping on their tax bills.
We note that Alphabet has outperformed the Zacks categorized Internet-Services sub-industry over the last one year. Shares gained 31.7% compared with the industry's gain of 22.8%. The company's dominant position in search, along with focus on innovation, strategic acquisitions and Android OS are expected to back its momentum going forward.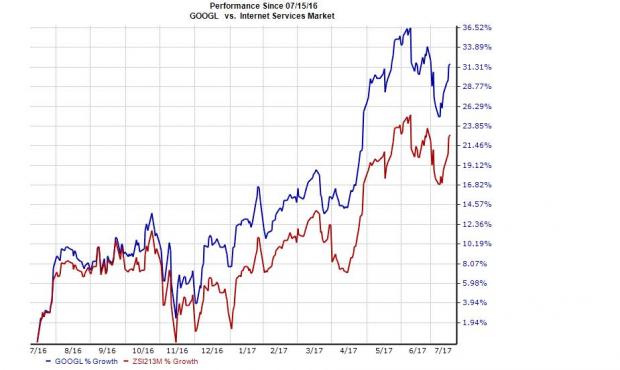 Clean Chit to Google Ireland
The Tribunal Administratif de Paris delivered five verdicts in the case on corporate income tax, withholding tax, value-added tax (VAT), business VAT reassessments and minimum business tax.
The court has found out that Google cannot be asked to pay additional taxes as it lacks sufficient physical operations in France.
In terms of corporate income tax and withholding tax, the court ruled that the absence of permanent establishment in France exempts it from the taxes.
On VAT, the court decided that the lack of human and technical resources in France does not allow Google to carry out contentious advertising services for which it can be taxed.
Some Respite Amid Mounting Legal Hassles
Last month, Google was slapped with a $2.7 billion fine for favoring Google Shopping/Google Product Search/Froogle over the shopping services of competitors. It will also be fined up to an additional 5% of the average daily worldwide turnover if it doesn't stop the practice within 90 days. Google is planning an appeal.
There are two more cases against it with decisions pending. One of these is related to Google using the Android platform to force hardware makers bundle Google services and prevent the preloading of rival services on devices. The other involves restricting access to ads provided by its competitors, which might hit its core AdSense business. Google is also fighting a legal battle over its Australian tax bill.
Apart from being a huge drain on resources, these have earned Google a bad name. Also, privacy concerns, anti-competitive concerns, tax avoidance and patent infringements are headwinds.
Alphabet Inc. Total Expenses (TTM)
Winning a courtroom battle amid such an unfavorable situation is obviously a relief (at least temporary) for the company and investors as well. Investors are keeping an eye on further developments.
Alphabet carries a Zacks Rank #3 (Hold). You can see the complete list of today's Zacks #1 Rank (Strong Buy) stocks here.
More Stock News: This Is Bigger than the iPhone!
It could become the mother of all technological revolutions. Apple sold a mere 1 billion iPhones in 10 years but a new breakthrough is expected to generate more than 27 billion devices in just 3 years, creating a $1.7 trillion market.
Zacks has just released a Special Report that spotlights this fast-emerging phenomenon and 6 tickers for taking advantage of it. If you don't buy now, you may kick yourself in 2020. Click here for the 6 trades >>
Want the latest recommendations from Zacks Investment Research? Today, you can download 7 Best Stocks for the Next 30 Days.
Click to get this free report
Amazon.com, Inc. (AMZN): Free Stock Analysis Report
Facebook, Inc. (FB): Free Stock Analysis Report
Alphabet Inc. (GOOGL): Free Stock Analysis Report
Apple Inc. (AAPL): Free Stock Analysis Report
To read this article on Zacks.com click here.
Zacks Investment Research