Rent-A-Center, Inc. RCII posted third-quarter 2017 adjusted loss of 15 cents a share wider than the Zacks Consensus Estimate of loss of 8 cents and fell substantially from 11 cents earned in the year-ago period. Total revenue of $644 million declined 7.2% year over year and also fell short of the consensus mark of $652 million, after surpassing the same in the preceding quarter.
Total revenue tumbled due to decline witnessed across the Core U.S., Acceptance Now, Mexico, and Franchising segments. Management hinted that hurricane related disruptions also hurt the results. Separately, the company informed that its Board of Directors is exploring strategic and financial alternatives.
We note that investors remain concerned about the company's waning top and bottom lines. The reflection of the same is visible from the stock's dismal performance in the bourses. Year to date, shares of this Plano, TX-based company has declined 10.5%, while the industry has advanced 26.9%.
Rent-A-Center's adjusted EBITDA plummeted 54.7% to $17.1 million, while EBITDA margin shriveled 280 basis points to 2.6% from the year-ago period.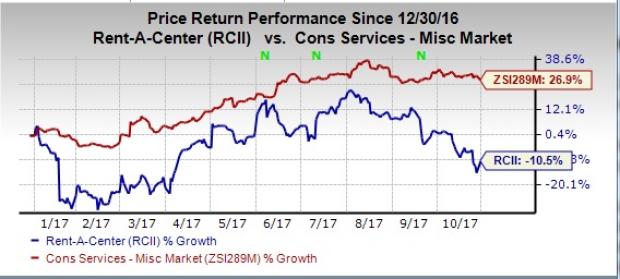 Comparable-Store Sales Performance
Comparable-store sales (comps) for the quarter dropped 3.1%, reflecting declines of 5.1% and 6.2% in the Core U.S. and Mexico segments, respectively, partly mitigated by 7.9% increase noted at the Acceptance Now segment.
However, it is to be noted that comps for the Core U.S. and Mexico segments have improved 510 and 50 basis points, respectively, while for the Acceptance Now the same has increased 120 basis points on a sequential basis. Consolidated comps for this Zacks Rank #2 (Buy) stock portray a sequential improvement of 430 basis points. You can see the complete list of today's Zacks #1 Rank (Strong Buy) stocks here.
Rent-A-Center is focusing on a new labor model, supply chain initiative and productivity enhancements. These endeavors are directed toward improving the performance of Core U.S. segment, optimizing the AcceptanceNOW business, and enhancing distribution channels as well as integrating retail and online offerings.
Rent-A-Center Inc. Price, Consensus and EPS Surprise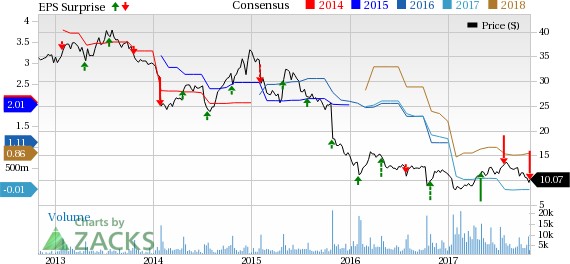 Rent-A-Center Inc. Price, Consensus and EPS Surprise | Rent-A-Center Inc. Quote
Segment Performance
Revenues from the Core U.S. segment slumped 8.1% to $442.8 million due to continued store base rationalization, unprecedented hurricanes and dismal comps performance.
Revenues from the Acceptance Now segment declined 5.2% from the prior-year quarter figure to $184.3 million on account of closures of Conn's and HHGregg locations and disruptions caused by hurricanes. These were partly offset by sturdy comps performance.
Mexico segment's revenues came in at $12.2 million, down 1.7% year over year attributable to lower comps. Finally, total Franchising revenues plunged 10.5% to $4.7 million during the quarter due to fall in the amount of merchandise sold to the franchise partners.
Store Update
At the end of the quarter, there were 2,406 Core U.S. locations, 1,175 Acceptance Now Staffed stores, 76 Acceptance Now Direct stores, 131 stores in Mexico and 227 Franchise stores.
Other Financial Aspects
Rent-A-Center, which shares space with McGrath Rentcorp MGRC, AeroCentury Corp. ACY and Aaron's, Inc. AAN, ended the quarter with cash and cash equivalents of $76.2 million, net Senior debt of $99 million, net Senior notes of $538.4 million and stockholders' equity of $237.2 million.
During the first nine months of 2017, the company generated $135.4 million of cash from operations. The company incurred capital expenditures of $13.4 million during the quarter.
Wall Street's Next Amazon
Zacks EVP Kevin Matras believes this familiar stock has only just begun its climb to become one of the greatest investments of all time. It's a once-in-a-generation opportunity to invest in pure genius.
Want the latest recommendations from Zacks Investment Research? Today, you can download 7 Best Stocks for the Next 30 Days.
Click to get this free report
Rent-A-Center Inc. (RCII): Free Stock Analysis Report
Aaron's, Inc. (AAN): Free Stock Analysis Report
AeroCentury Corp. (ACY): Free Stock Analysis Report
McGrath RentCorp (MGRC): Free Stock Analysis Report
To read this article on Zacks.com click here.
Zacks Investment Research