The evening started on a high note when Janet Yellen's survival giving a speech warranted a 100 point rip in Dow futures (and USD strength). Then Japan stepped up with its first deflationary CPI print since April 2013 (which of course was met with stock-buying because moar QQE is overdue but that soon faded). EM FX is tumbling further (with Malaysia leading the charge). Chinese credit risk jumps tro a new 2 year high (as SHIBOR remains entirely manipulated flat) as China halts its 4-day devaluation with a tiny nudge stronger in the Yuan fix.
In the words of Flash Gordon, "She's alive..." so BTFYDD because she seemed a tad more hawkish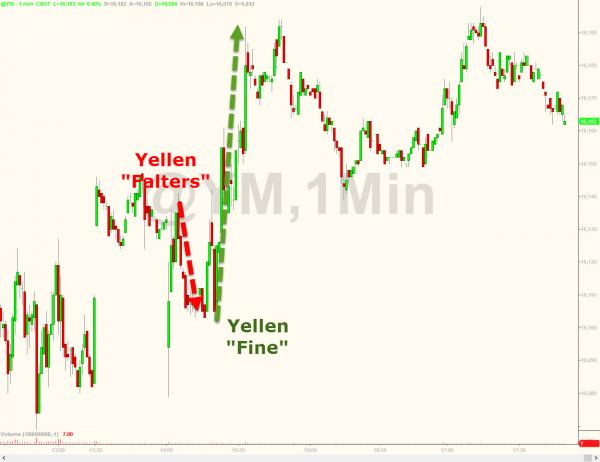 and USD strength...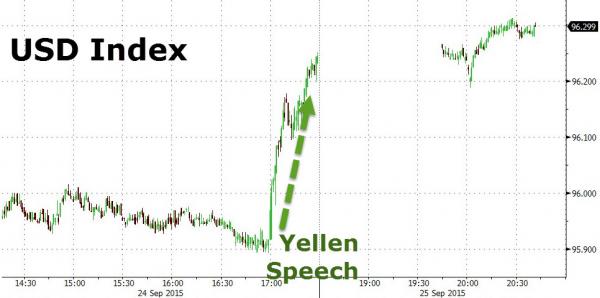 And then Japanese CPI data hit and showed Abenomics imploding as the country dips backinto deflation...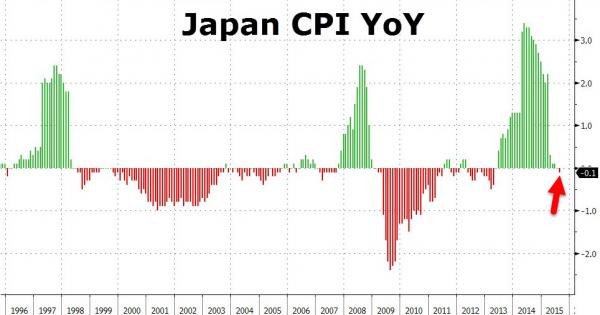 Which sparked panic-buying in Japanese stocks (moar QQE?) only to give it al lback as China opened...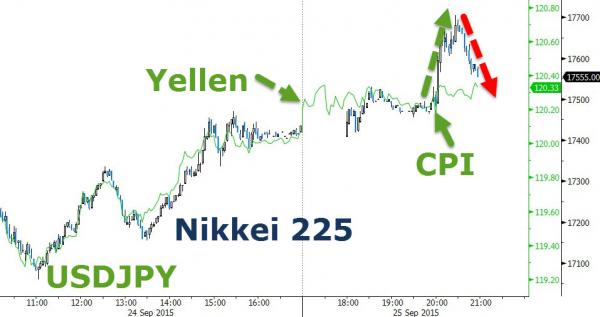 EM FX not happy at the USD strength and Yellen hawkishness...
*RINGGIT HEADS FOR BIGGEST FOUR-DAY DROP SINCE 1998
*MALAYSIA'S KEY STOCK INDEX OPENS DOWN 0.6% AT 1,604.15
*SINGAPORE'S STRAITS TIMES INDEX FALLS 0.6% TO 2,829.68 AT OPEN
*SOUTH KOREA'S KOSPI INDEX FALLS 0.5%
India is closed for a holiday.
Asian FX is sliding once again....
In China this worries us... It appears the new target for PBOC stability is funding rates (overnight SHIBOR) which has now been dead for 3 weeks amid massive liquidty adjustments, stocks swing, credit risk surges and CNY devaluations...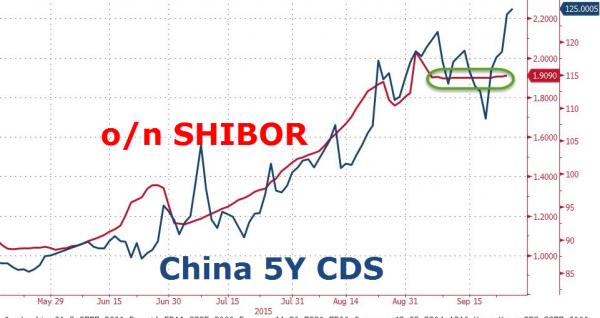 That is a new 2 year high for Chinese default risk.
Looks a lot like the tortured manipulation that happened in USDCNY before it imploded a month ago...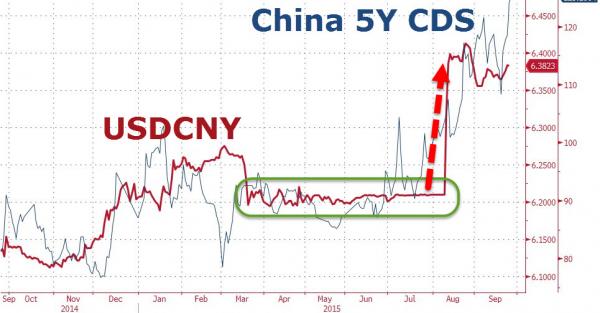 Chinese stocks are modestly lower...
*CHINA SHANGHAI COMPOSITE SET TO OPEN DOWN 0.4% TO 3,130.85
*CHINA'S CSI 300 INDEX SET TO OPEN DOWN 0.4% TO 3,272.67
*HONG KONG'S HANG SENG INDEX FALLS 0.1% IN PREMARKET
As PBOC halts its 4-day devaluation (just)
*CHINA SETS YUAN REFERENCE RATE AT 6.3785 AGAINST U.S. DOLLAR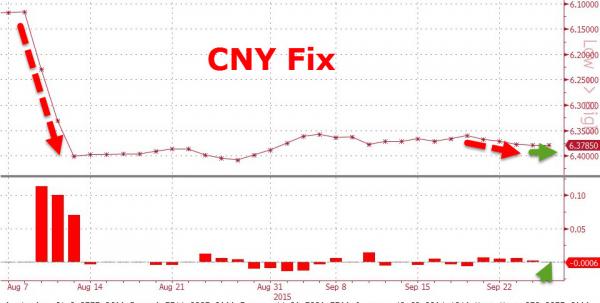 Charts: Bloomberg