The surprise wasn't as surprising as it looked. Before AT&T's announcement, investor-relations employees at the telecommunications giant encouraged analysts to look back at comments made by finance chief John Stephens in early March, say analysts who spoke with the company. He had implied some customers were waiting longer to upgrade their mobile phones, an important revenue source.
Analysts at three research firms cut their sales estimates by an average of about $1 billion in the week before AT&T issued first-quarter numbers. William Blair & Co. analysts cited Mr. Stephens's comments. The average estimate of all 22 firms following AT&T fell $323 million in three weeks, according to FactSet.
AT&T wound up reporting $40.54 billion in quarterly revenue, beating the lowered target by $76 million.
Quarter after quarter, about 75% of companies in the S&P 500 index meet or exceed analysts' earnings forecasts, a statistic that has held up in good times and bad. One reason for such consistently impressive results is that some companies quietly nudge analysts' numbers, almost always lower.
A federal rule bars companies from selectively disclosing material nonpublic information but doesn't prohibit private conversations in which companies can gently push analysts in helpful directions, as AT&T did.
"We understand the rules, and we follow them diligently," says Mike Viola, senior vice president of investor relations at AT&T, based in Dallas.
Some analysts, investor-relations officials, securities lawyers and executives say the signals have become so commonplace that the all-important question of whether a company beat estimates is more about theatrics than reality.
Companies send the signals to make themselves look better—and boost their stock prices—even though their fundamentals haven't changed at all. And the signals often go to just a small number of analysts, giving them and their investing clients a potentially unfair advantage.
Media mogul Barry Diller, chairman of Expedia Inc. EXPE 0.84 % and IAC/InterActiveCorp, says analysts and investor-relations executives work together to keep estimates low. "It is a rigged race," he says, adding that the problem exists even at those two publicly traded companies.
An analysis by The Wall Street Journal found that earnings estimates often decline steadily after the end of a quarter. That can turn what might have been an embarrassing "miss" for the company into a positive surprise.
The Journal examined daily changes in analysts' estimates at S&P 500 companies since the start of 2013, comparing the estimates with what the companies ultimately reported for each period.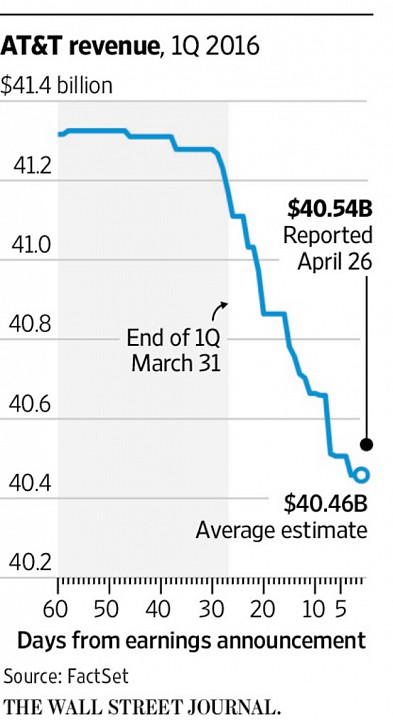 Nearly 2,000 times from the start of 2013 through this year's first quarter, companies would have missed the average earnings estimate if analysts hadn't changed their numbers in the 40 trading days before the company's quarterly earnings report.
In about one-fourth of the instances where companies would have missed the average earnings estimate, the average projection fell enough that the company wound up meeting or beating analysts' expectations instead, the Journal's analysis shows. The 40 trading days cover the period from when companies typically have a good sense of the quarter's performance to the day before earnings are announced.
Viacom says its analyst interactions are consistent with industry practice. Citigroup says it provides financial updates at conferences between earnings releases. Coca-Cola, CBS and U.S. Bancorp wouldn't comment.
The opposite almost never happens. Companies wound up missing earnings estimates just 1% of the time after being on track to beat them 40 trading days earlier, the Journal's analysis shows.
The stakes are high. In the past five years, the share price of companies in the S&P 500 that fell short of analysts'...
More