Overall volume rose +4% on Tuesday as the Nasdaq logged 2 out of the last 3 sessions as accumulation days. And 2 out of the 3 biggest companies on the street report earnings in the next 3 days.
So what exactly does that mean? If you're one of the few bears left shorting this market (the bull to bear ratio has gone down to at least 3 to 1), then the next few days may a good time to take a breather and possibly rethink your current trading strategy. Oh, indeed the bears will eventually have their day, but when the big boys are hustling to meet year-end quotas, the stampede may not slow down anytime soon.
Some may have noticed our "Next Day" missing from the TVO dashboard. After nearly a year of backtesting, forward testing and real-time observation (i.e. paper trading), the signals for this new short-term strategy (with a 2 out of 3 success rate) are now available exclusively to TVO members. We'll be posting results of future trades (wins and losses) as well as an upcoming blog about the inspiration (and perspiration) behind the Next Day Move system. -MD
To view past positions check out our Trade History.
To find out what the indicators mean, here's our TVO System Dashboard Terms Explained.
To learn more about market volume, The Total Volume Oscillator, or How We Trade, find us on
https://twitter.com/tradinglicks
(@TradingLicks) and StockTwits!
The indicator descriptions in the above graphic represent general market sentiment and are not the actual TVO System signals. To view today's active signals and options trades, please Login. Not a Member? Join us.
On Friday the market literally gave a thumbs up to the tax plan and broke out to new highs. And before that we had a Read More …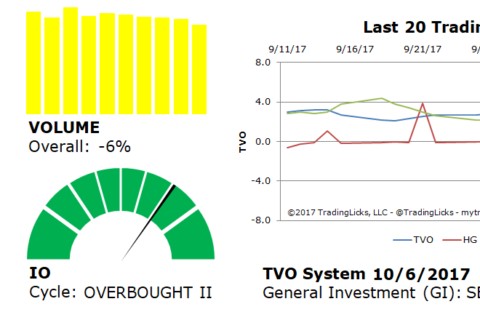 More